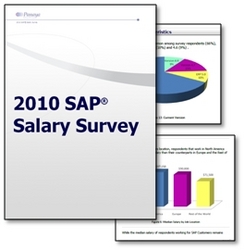 The earnings of SAP professionals depend on many variables, including the version they are working on, industry, education level, and experience
Menlo Park, CA (PRWEB) February 9, 2010
52% of SAP professionals expect a salary increase in 2010 while 43% expect no change in their salary and 5% are dreading salary cuts. This is one of the findings in a new salary survey just released by Panaya Inc. The survey results are based on 430 responses collected from SAP customers and systems integrators worldwide, through an online questionnaire during December of 2009. Comprehensive demographic data was collected on all respondents, as well as their salary changes in 2009, their expectations for 2010, and advice for other SAP professionals.
The survey results show that the economic downturn during 2008-2009 seemed to have a number of impacts on the respondents' jobs:

The most common change reported by the respondents is more responsibility, a result of the need to do more with fewer resources.
Competition on jobs has intensified, so more responsibilities, longer hours, and better skills have not necessarily resulted in higher compensation: In 2009, more than half the respondents (51%) did not see a change in salary; 17% of respondents saw a reduction in their salary; and 33% saw an increase.
Almost half of the respondents (43%) did not receive a bonus in 2009. Of the respondents that did receive a bonus, 87% received a bonus of 20% or less of their total salary.
Many of the respondents are hoping that 2010 will be a better year, with over half (52%) expecting an increase in their salaries.
Another interesting finding is that SAP professionals working with ERP 6.0 (as compared to those working with R/3 4.6, 4.7, or ERP 5.0) earn 5-9% more than respondents working with older versions, highlighting the importance of staying up-to-date on SAP's latest product versions and the benefits of working at organizations utilizing the latest technology.
Gender is also a factor determining salary levels. The median salary for women is 8-12% less than men in Europe and North America. This gender bias is smaller than the bias reported for the general working population in the 17 OECD countries, which was an average of 17.6% in the latest available survey.
"The earnings of SAP professionals depend on many variables, including the version they are working on, industry, education level, and experience," said Amit Bendov, Panaya's Chief Marketing Officer. "Panaya conducted this survey to help IT directors compare their SAP compensation structure to industry peers, better understand what drives compensation in this market, and get useful ideas for increasing their attractiveness."
The full survey results can be downloaded at
http://go.panayainc.com/2010SAPSalarySurvey.html
About Panaya:
Panaya's Software-as-a-Service solutions enable companies that use SAP to save up to 50% of their application lifecycle costs and minimize the risks associated with system changes. Utilizing cloud-based simulation to analyze the impact of pending changes, Panaya automatically pinpoints which custom programs will break as a result of an upgrade or support package implementation. Panaya provides a complete solution for managing these changes, explaining how to fix the anticipated issues, suggesting the most efficient test plan, and calculating required project budget and resources.
For further information contact Susan Sullivan at Susan.Sullivan(at)PanayaInc(dot)com or 617-875-6256 or visit the Panaya web site at http://www.panayainc.com.
SAP is a registered trademark of SAP AG. SAP and other SAP products and services mentioned herein as well as their respective logos are trademarks or registered trademarks of SAP AG in Germany and in several other countries all over the world.
###