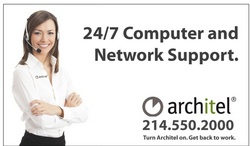 Architel is pleased to have completed its eighth straight year of double-digit revenue growth in 2009
Dallas, TX (Vocus) February 9, 2010
Architel, one of Dallas-Fort Worth's largest managed services providers and a leading incubator of Metroplex technology ventures, said today that it has surpassed 10,000 users of its outsourced IT support services.
"Architel is pleased to have completed its eighth straight year of double-digit revenue growth in 2009," said Scott Ryan, president and CEO of Architel. "For this we are grateful to our loyal clients and talented team of employees, who enable us to maintain some of the lowest employee turnover rates in the industry."
Architel provides small- and mid-sized companies with managed IT services for a flat monthly fee, enabling clients to enjoy predictable costs and peace of mind. The experienced Architel team ensures smooth, efficient operation of hardware, software and networks at a significantly lower cost than in-house staff or break-fix support.
"In the current economy, companies are paying closer attention to costs they have taken for granted for years," Ryan said. "We have seen clients save tens of thousands of dollars annually by transitioning from internal IT departments to outsourced IT support with Architel. This kind of belt-tightening is good for small and midmarket companies, because it enables them to focus on their most important priority: building their businesses."
Founded in 2001, Architel is headquartered at the Dallas Infomart, where it maintains a state-of-the-art help desk and data center. The company also incubates promising startups and technologies, such as ShopSavvy, the groundbreaking mobile application with millions of users worldwide.
About Architel
Architel is a Dallas managed services provider for small- and medium-sized businesses. Architel provides outsourced IT support for a flat monthly fee, offering clients a turnkey solution to their IT headaches and a compelling alternative to traditional break-fix support. The company's state-of-the-art help desk and data center are located at the Dallas Infomart. Architel is an incubator of early-stage technology companies including Big in Japan, the developer of ShopSavvy. Call 214.550.2000 or visit http://www.architel.com to learn how Architel can reduce your IT costs.
Media Contact:
Cathy Baradell
972 235 3439
cbaradell(at)ideagrove(dot)com
###