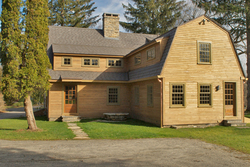 We feel pretty strongly about "green" building and probably our biggest challenge is integrating sustainable building products concepts into a house in a sensitive way
Madison, CT (PRWEB) February 10, 2010
Gulick and Spradlin LLC prides themselves in their ability to blend up-to-date technologies with the craftsmanship of the past. While respecting the architectural significance of the property, Gulick and Spradlin have again shown in the Stone/Shelley House their solid commitment to build "green" by saving and reusing building materials, their sensitivity to energy requirements through the use of efficient insulation and heating and cooling systems, and the use of sustainable and innovative products.
"We feel pretty strongly about "green" building and probably our biggest challenge is integrating sustainable building products concepts into a house in a sensitive way." Peter Gulick
The Stone/Shelley House, completed in December 2009, is their second project formerly on the "most endangered" list of the Connecticut Trust for Historic Preservation. An earlier project, The David Field House, completed earlier in 2009, was in such poor condition that the contractors had to consult HABS drawings (Historical American Building Survey) that had been done in 1930.
The November 2009 issue of Period Homes featured their award-winning restoration of the 1720 David Field House in Madison, Connecticut. This house was acknowledged for reviving the building's original Colonial-era appearance while integrating 21st century sustainable products and systems. The contractors re-used old floor boards and salvaged timbers, purchased clapboards made from locally grown White Easter pine, and utilized a recycled product made from old tires and soda bottles for roofing shingles.
Gulick and Spradlin also recognize the reality of needing to expand and adapt houses to shifting uses that reflect realities in modern lifestyles. Gulick & Spradlin restored homes retain their architectural significance for living in the 21st century.
"My philosophy on designing bathrooms is that they should look like 19th century bathrooms; the time frame they first appeared in colonial houses…houses evolve, and part of our contribution is making conveniences efficient, but not over-modernized." Peter Gulick
Peter Gulick was the recipient of the Jane R. Kuhl award for Historic Preservation in 2007. His interest in preserving old houses and buildings began with learning the methods and techniques employed by early Madison housewrights. He has been a full time contractor and renovator since 1988, and has completed many projects around Madison including the Jonathan Murray House built in 1690 and the Phineas Meigs House circa 1733. In 2001, John Spradlin who had just completed a 17th century renovation joined him as project manager.
For more information please visit (http://gulickspradlin.com).
# # #