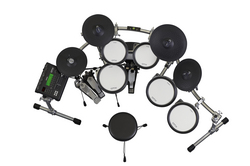 Every time I sat behind this drum set, wow! I did not want to get up
Buena Park, Calif. (Vocus) February 10, 2010
Yamaha debuts its new DTX900 Series of electronic drum sets. In addition to a new module, the DTX950K and DTX900K kits feature the innovative DTX-PAD with Textured Cellular Silicone (T.C.S.) technology, which offers musicians an expressive playing experience. The kits received a prestigious Best in Show designation at NAMM, the premier musical product industry trade show.
"Every time I sat behind this drum set, wow! I did not want to get up," said Jim Rupp, owner and president of Columbus Pro Percussion, Columbus, Ohio, who selected the kits to receive the Best in Show Award. "The snare drum feels like a snare. You move around the kit to that last floor tom, it doesn't feel like the snare. It feels like a floor tom. It's got more give. Not only does it feel incredible, it tracks. . . This is the top end."
Yamaha designed its innovative new DTX-PAD with input from the company's legendary stable of drum artists. The T.C.S. head uses a proprietary manufacturing process that introduces small air bubbles into foamed silicone to provide playability and feel unlike any pad introduced to market. Every nuance and detail of the kit has been fine-tuned so that even the most jaded acoustic drummer will feel right at home with these drums.
"Drummers need equipment that not only feels good to play, but sounds good, too," said Robert Terry, marketing manager, Yamaha Electronic Drums. "The new DTX-PADS, combined with Yamaha's advanced sound technology, deliver an instrument that will appeal to the most discriminating acoustic and electronic kit players."
With a different stick response and rebound for the T.C.S heads of the snare and toms, a hi-hat that responds naturally to both hands and feet, along with three-zone choke-able cymbals, the Yamaha DTX900 series lets drummers express their passion for rhythm just as they can on an acoustic kit.
Another key feature, the DTX900 Drum Trigger Module, creates professional sounds that bring drumming to life. The module adopts sound technology from the vaunted Motif XS Synthesizer Workstation and takes its DSP effects from Yamaha's high-end digital mixers. Drummers can choose from 1,115 on-board drum, percussion and effect voices or use the sampling function for endless sound expansion (requires optional DIMM; 512MB maximum). The DTX900 module is capable of importing and layering samples, so as the library of third party DTX sounds and compatible VST instruments continues to grow, there are unlimited opportunities to explore new sonic possibilities.
The DTX900 Series also helps drummers express themselves by including a sequencer so players can record their grooves or create complete backing tracks to jam along with. The unique Stack/Alternate modes allow for the layering of multiple sounds and triggering musical phrases to open up tons of creative possibilities. The Groove Check and advanced Metronome functions help develop solid timing. USB ports, MIDI connections, and multiple audio outputs, including digital SP/DIF, easily integrate with any professional recording environment or personal computer.
"The DTX900 series kits are innovative in part because of the different feels for the different drums on the new DTX pads, which are quieter than the previous model," said Tom Griffin, Technical Sales Specialist, Yamaha Electronic Drums. "And, the easy-to-use interface lets drummers design the digital set of their dreams."
For quiet practice, playing live or as a controller for VST instruments, the revolutionary new T.C.S head's natural playability and feel, combined with Yamaha's acclaimed digital sound technology, make the Yamaha DXT900 Series Electronic Drums the ones to beat.
For more information on the DTX950K and DTX900K drum kits, visit Yamaha Corporation of America at Winter NAMM 2010 in the Marquis Ballroom at the Marriott Hotel, Anaheim; write Yamaha Corporation of America, Pro Audio & Combo Division, Electronic Drum Products, P.O. Box 6600, Buena Park, CA 90622; telephone (714) 522-9011; e-mail infostation(at)yamaha(dot)com; visit http://www.yamahadrums.com.
About Yamaha
Yamaha Corporation of America is the largest subsidiary of Yamaha Corporation, Japan and offers a full line of musical instruments and sound reinforcement products to the U.S. market. Products include: acoustic and digital pianos, portable keyboards, guitars, acoustic and electronic drums, band and orchestral instruments, marching percussion products, synthesizers, professional digital and analog audio products, and innovative technology products targeted to the hobbyist, education, worship, professional music, and installation markets.
###