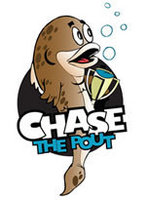 "If past attendance is any indication of what to expect this year, we're sure to see more than 10,000 folks up here," adds Tatge. "It amazes me that a town with a population of around 1,500 can swell to about 10 times its size for a nasty fish."
Walker, Minn. (PRWEB) February 9, 2010
In an effort seen as the saving grace to rescue three modern-day Olympic-style events from the chopping block, organizers of the Chase the Pout™ Games announced today that they will host the inaugural competition of three discarded events: Pout Curling, Pout Relay and Pout Luge. The events will be showcased and held in coordination with the 31st Annual International Eelpout Festival held Feb. 19 – 21.
"We're not necessarily in the same league as Stephen Colbert and what he did for the U.S. Speedskating team, but we were obviously disappointed to see the Olympic Committee literally sweep these events from their line-up just days before the games begin," said Jamie Tatge, general manager, Chase on the Lake. "On the other hand, is a truly unique event like Pout Curling welcomed at The Eelpout Festival? You betcha!"
The Eelpout Festival, a long tradition in angling for one of the ugliest bottom-dwelling fish as well as one of "Up North" revelry, will be the backdrop to the newly created Chase the Pout Games. Chase on the Lake, northern Minnesota's premier historic resort property, created the Games in recognition of the 2010 Vancouver Olympic Games and will also play weekend host to a 30,000 pound "Red Bull Ice Bar," live music and the infamously (and insanely) colorful Walker Polar Pout Plunge.
"If past attendance is any indication of what to expect this year, we're sure to see more than 10,000 folks up here," adds Tatge. "It amazes me that a town with a population of around 1,500 can swell to about 10 times its size for a nasty fish."
Seeking Teams
Registration for the Chase the Pout Games is now open and encouraged for teams of four (21 years and older) who seek to showcase their athletic prowess and pout-handling skills. All skill levels (or lack thereof) are welcomed. Teams may register in advance at Chase on the Lake or through the Walker Polar Pout Plunge Web site which can be found at http://www.chasethepout.com. On-site same-day registration is available until noon Friday, Feb. 19. There is no registration fee, but all team members must purchase a 2010 International Eelpout Festival commemorative button to participate. In addition to awarding the Chase the Pout Grand Champions, prizes will be awarded to winning teams in each event.
Events

Pout Curling: Teams will throw "The Eelpout Rock" and try "sweeping" to victory. Walker's local curling club will facilitate the "stone-pout" throws and button landings
Pout Relay: This relay race will test participants' agility, speed and proper "pout-baton" handling skills
Pout Luge: Teams will pedal "Eelpout Sleds" around a "pout track" vying for the quickest time
Polar Pout Plunge: Chase the Pout teams can add bonus points to their point total if they participate in the 7th Annual Polar Pout Plunge benefitting the Walker Area Community Center.
Photos and a full schedule of events can be found at http://www.chasethepout.com. All Chase the Pout events will be held at Chase on the Lake, (502 Cleveland Blvd., Walker, MN) one of Leech Lake's top Eelpout Festival destinations.
About Chase the Pout™
Chase the Pout provides additional activities and events in collaboration with the Annual International Eelpout Festival. For more than 30 years, Walker, Minn. has hosted the Eelpout Festival drawing more than 10 times its population to the tiny northern town for a three-day winter pout weekend. The historic property of Chase on the Lake is a central meeting place for scheduled events and activities.
About Chase on the Lake
Voted as a "Top 5 New Minnesota Hotel" and premier Minnesota resort, Chase on the Lake is a historic resort located on the beautiful shores of Leech Lake in Walker, Minn. Chase's facilities are designed to serve both personal and professional needs. Amenities include classic hotel lodging accommodations or two and three bedroom lakeside condos; lakeside dining at The 502 Restaurant; Copper Door, a full-service Aveda spa; Chaser's Alley, a two-lane bowling alley; great outdoor activities including fishing, boating and beach activities, snowmobiling, ice fishing and more. For more information on Chase's visit http://www.chaseonthelake.com.
About the International Eelpout Festival
Entering into its 31st year, the Annual International Eelpout Festival attracts roughly 10,000 participants and visitors to Walker, Minn. (pop. 1,500) for three days every February. This year's festival officially begins at Noon on Feb. 19 and concludes at 11:00 a.m. on Feb. 21. All participants must be registered and have in their possession an official International Eelpout Festival button, which may be purchased at the registration tent at Walker City Park or at participating Walker area businesses. Cost of a button is $10.
Started in 1979 as the brainchild of local Ken Bresley, and now run by owner Jim Gertchy, the festival has grown from 700 visitors (mostly locals) to nearly 10,000. For three days, anglers try their hand at catching one of the ugliest fish found in freshwater with top prizes awarded in several categories. For a full listing of rules and regulations, visit the official festival site link which can be found at http://www.chasethepout.com.
###