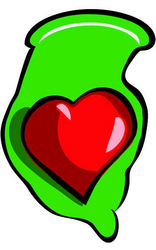 Keep the VD Out of Valentine's Day
New York (PRWEB) February 9, 2010
As a parent, having 'The Talk' is probably one of the most difficult and challenging moments of parenthood. "It's tough to believe your child is mature enough to even understand what you will be talking about and harder yet to know where and how to begin," explains Robert Moore, CEO of TeezItNow. Parents should not feel like they are condoning sexual activity just because they arm their children with information about how to protect themselves from STDs, AIDS, and unwanted pregnancy, Moore says. "Along with information about protection, you can teach your teens to recognize their own limits and make sure they know it's not just ok to say no but that saying no can save their lives."
It will never be easy to talk to teens about sex, STDs and pregnancy, but a report just issued by the Guttmacher Institute indicates teen pregnancy has increased 3% among 15 to 19 year olds, making it more important than ever to communicate with teens, explains Moore. Just this month, Fox News reported the birth of a child to an 11-year old girl, one of the youngest pregnancies documented in the U.S.
While Moore has occasionally been criticized for recommending that parents start having open and direct conversations with their kids about sex by age 12, many parents who've taken that first step have thanked him later for helping them open the dialogue. In addition to the initial Talk, Moore recommends having frequent conversations about the importance of using condoms to prevent the spread of STDs, AIDS and unwanted pregnancy are equally as important. "It is vital to make sure teens know about safety, whether they are sexually active now or they become sexually active in the future."
TeezItNow utilizes a unique format to deliver the "Practice Safe Sex" message, by using hundreds of "IT-ioms" to make initiating and talking to teens about all these very sensitive issues much easier and comfortable for everyone. "Just talking to your teen about the pressure that can go along with 'hanging out and hooking up,' especially around a holiday like Valentine's Day, can help your teen keep a cool head" explains Moore. One mom's response to TeezItNow's approach says it all: "Where were you seven years ago when I was having the Talk with my other children? All I can say is, I'm glad you are here now! As far as I'm concerned, you have reinvented The Talk"
"Don't let your teen assume that silence means you condone sexual behavior. Have frank discussions with your teens about the ramifications of unprotected sex," says Moore. When parents don't talk to their teens about sex, teens assume that having sex is ok or try to find the information somewhere else. According to StayTeen.org, teens want clear and accurate information from their parent—honesty and information, not threats or personal experiences. StayTeen shares the reality of what can happen without The Talk through their Sex Ed Horror Stories. Often, teens feel obligated to give in to sexual demands around special days like Valentine's Day. "Having a chat with your teens before the special day may help arm them with the willpower and knowledge to say no…and the information and protection they will need if they say yes," says Moore.
"As the father of a 13-year old daughter, I believe in the ABCs (Abstinence Before Condoms), but given the stark realities of peer pressure that elevates enormously on special occasions, we as parents need to be proactive about opening the door to conversations about sex. We cannot prevent our teens from being bombarded by sexual pressure, messages and images, but we must be the source of educational and accurate information they receive" explains Moore.
No one should ever feel obligated to participate in sex if they don't want to, no matter how special the moment might feel, but understanding how to protect oneself from the AIDS, STDs, and unplanned pregnancy is an important conversation all parents should have with their teens. Moore explains, "Special events like Valentine's Day create a sense of obligation in teen relationships that can only be dispelled by open, honest communication from parents. Candy and flowers do not obligate someone to sexual favors, and you can help your teen understand that."
Visit Teez IT Now at http://www.teezitnow.com/, e-mail customerservice@teezitnow.com or phone Robert Moore at 315-461-9955. Partial proceeds from sales of Teez IT Now shirts are donated to non-profit organizations dedicated to AIDS, STD and pregnancy prevention, education, and awareness.
###