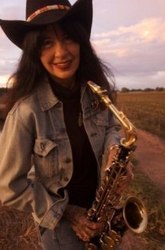 Wings of Night Sky, Wings of Morning Light
North Andover, MA (Vocus) February 10, 2010
Joy Harjo, renowned Native American poet, songwriter, musician, singer, playwright, and author, will perform her new one-woman show "Wings of Night Sky, Wings of Morning Light" at Merrimack College. She will also be the keynote speaker at a luncheon in her honor.
The events are being hosted by Women's and Gender Studies at Merrimack College in celebration of Women's History Month.
When: Tuesday, March 23, 2010
11:30 a.m. – 1:30 p.m. Free Luncheon for the College Community with keynote speaker Joy Harjo
Cascia Hall, Merrimack College (Limited seating for general public available contact mackenzieg(at)merrimack(dot)edu)
About Joy Harjo:
Joy Harjo was born in Tulsa, Oklahoma and is a member of the Mvskoke (Creek) Nation. She was recently named Best Native American Female Musician of the Year (2009 Nammy Award). Her seven books of poetry which include She Had Some Horses, The Woman Who Fell From the Sky, and How We Became Human, New and Selected Poems, have garnered many awards including : the New Mexico Governor's Award for Excellence in the Arts, the Lifetime Achievement Award from Native Writers Circle of the Americas; and the William Carlos Williams Award from the Poetry Society of America. More information available below.
7:00 p.m. Joy Harjo performs her one-woman play "Wings of Night Sky, Wings of Morning Light" with Grammy award-winning musician Larry Mitchell
Tickets: $10 (Free for Merrimack college students, faculty, and staff) Rogers Center for the Arts, Merrimack College
About "Wings of Night Sky, Wings of Morning Light":
Harjo tells us how trickster Rabbit creates a clay man, more out of whimsy than for any real purpose. But Rabbit's prank backfires. The clay man's insatiable hunger for game, for women, for all the riches of the Earth, soon throws the universe out of balance. The play's next stop is a cutting-edge theatre in New York this May. For more, visit http://www.joyharjo.com.
Contact: For more information on the luncheon and/or to reserve tickets for the performance with Joy Harjo, contact the Women's and Gender Studies Program at (978) 837-3530 or x5478 or email mackenzieg(at)merrimack(dot)edu or colellan(at)merrimack(dot)edu
Additionally, for the entire month of March, the Merrimack's McQuade Library (1st floor reference room) will celebrate Women's History Month with a display of books, multimedia and artifacts highlighting the works of Joy Harjo. Harjo's books will also be available in the Merrimack College bookstore, 2nd floor, Sakowich Campus Center. She will have signings after both the afternoon luncheon and the evening performance.
Media Contact: To arrange an interview with Joy Harjo, contact Heather Notaro at (978) 837-5195 or email notaroh(at)merrimack(dot)edu.
More on Joy Harjo:
Joy Harjo has released four award-winning CD's of original music and performances: Letter from the End of the Twentieth Century, Native Joy for Real, and She Had Some Horses. She just won a Nammy (Native American equivalent of the grammy for her new CD, Winding Through the Milky Way. Joy has received the Eagle Spirit Award for overall contributions in the arts, from the American Indian Film Festival and a US Artists Fellowship for 2009. She performs internationally solo and with her band Joy Harjo and the Arrow Dynamics Band (for which she sings and plays the saxophone and flutes), and premiered a preview of her one-woman show, Wings of Night Sky, Wings of Morning Light in NYC and opened it in LA in March 2009. She also co-wrote the signature film of the National Museum of the American Indian, A Thousand Roads.She is a founding board member of the Native Arts and Cultures Foundation. Harjo writes a column "Comings and Goings" for her tribal newspaper, the Muscogee Nation News. For more information, visit http://www.joyharjo.com.
Merrimack College event co-sponsors: Office of Academic Affairs, Dean of Liberal Arts, McQuade Library, English Dept., Philosophy Dept., Islamic and Middle Eastern Studies Program, Communication Studies Dept., Religious and Theological Studies Dept., Fine Arts Dept., Media Center, Writing Center, Office of Student Life. Other co-sponsors: Boston NOW, United American Indians of New England.
Media Contact:
Heather Notaro
Public Relations, Merrimack College
(978) 837-5195, heather.notaro(at)merrimack(dot)edu
###