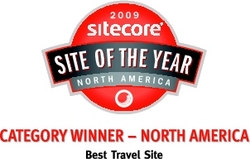 The resort wanted a great visual design, an elegant experience, and new functionality like user-contributed photos and videos. It was a tall order with a deadline of 4 months and the need to provide a highly scalable platform," Paul Williams, ISITE Design
Portland, OR (PRWEB) February 9, 2010
The new website of Mt. Hood Meadows Ski Resort, designed and developed by ISITE Design, has been named North American Travel Site of the Year by web content management software provider Sitecore. The site is SkiHood.com.
The site was recognized for supporting an immersive, engaging and interactive online experience for skiers and snowboarders who visit Mt. Hood Meadows, a premier winter sports destination in the Pacific Northwest.
Built on Sitecore's Microsoft .NET-based web content management platform, the new site engages resort visitors before, during and after their trip to the mountain. It provides vibrant photos and videos, user-contributed media and stories, and real-time data on trail conditions, weather, lifts, and more. The site also integrates with business-critical systems, including Mt. Hood Meadows' resort management system and ecommerce, helping drive strong customer engagement and online revenue.
ISITE Design, an interactive agency and web content management consultancy, is a longtime Sitecore partner.
"Mt. Hood Meadows had an ambitious set of site requirements. They wanted a great visual design, an elegant user experience for a wide array of visitors and new functionality like user-contributed photos and videos," said Paul Williams, CEO and President, ISITE Design. "It was a tall order with a deadline of 4 months and the need to provide a highly scalable platform on which they could grow."
Williams added, "The Sitecore CMS provided ISITE and Mt. Hood Meadows a flexible development framework to create a robust and engaging web experience that is easily maintained by Meadows staff."
The website re-launch, coming just before the start of the 2009-2010 winter season, has had an immediate positive impact on ticket sales and customer engagement. The site reflects Mt. Hood Meadows's status as a premier travel destination in the Pacific Northwest.
"We are extremely pleased with the presentation of content, imagery and the user experience that SkiHood.com delivers to our guests. The improved navigational system and one click ability to reach popular sections such as our conditions page, photo gallery, events schedule and online store has vastly improved the browsing experience, delivering the preferred content fast and efficiently," said Dave Tragethon, Executive Director of Sales, Marketing, Communications and IT.
He added, "The Sitecore application allows us to decentralize the administrative task of managing our site to involve those who are most knowledgeable and excited about their specific sections of the site. The site has helped us accomplish our mission to communicate more immediately and accurately with our guests in both a proactive and responsive basis. This site is helping our guests to advance plan their trip and commit to visiting Mt. Hood Meadows, while setting the appropriate expectation of what they will experience when they get here."
"With our extensive network of partners, we have the benefit of working with companies like ISITE Design that bring the creativity and design expertise that is essential in building interactive websites," said Paul Markun, VP Marketing, Sitecore. "ISITE Design has demonstrated excellence in creating an engaging site that accelerates business strategies by establishing a compelling online presence."
Sitecore's Site of the Year contest recognizes customers who have leveraged Sitecore's technology to develop the most outstanding websites.
About Mt. Hood Meadows Ski Resort
Mt. Hood Meadows is the premier ski resort on Mt. Hood and the second largest ski resort in size and lift capacity in Oregon. The resort's spectacular and varied terrain, convenient high speed lift system and award winning hospitality has made it Portland's resort of choice. Meadows is located just 67 miles from Portland and offers 2,150 acres of the most varied and exciting terrain in the Northwest. http://www.SkiHood.com.
About ISITE Design
ISITE Design is a nationally recognized interactive agency and content management consultancy located in Portland, Ore., and Cambridge, Mass. As a top partner with Sitecore, ISITE Design has a large Sitecore-certified development team and a long-term commitment to developing successful Sitecore-driven solutions for clients that include Tufts University, Genzyme, Siemens AG, City of Cambridge, Mass., and others. More information at http://www.isitedesign.com.
About Sitecore
Sitecore's Web Content Management System (CMS) and portal software solutions enable companies to deliver compelling web experiences. Sitecore's award-winning CMS software makes it easy for businesses to create and update dynamic, full-featured Web sites of all types. Sitecore's industry leading flexibility and scalability allows companies to better leverage their content, improve customer experience and drive business growth.
Thousands of public and private organizations, including national governments and Fortune 500 companies utilize Sitecore solutions for their websites. These organizations have created and now manage more than 23,000 dynamic websites with Sitecore including Computer Associates, Costco, ISS, Lloyds of London, Microsoft, Omni Hotels, Sara Lee, Siemens, Thomas Cook and Toshiba.
###