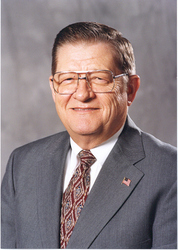 Nashville, Tenn. (Vocus) February 11, 2010 –
The North American Association of Wardens and Superintendents (NAAWS) has named CCA warden Ralph Kemp, of Wheeler Correctional Facility in Alamo, Ga., "2009-2010 Warden of the Year."
Since 1979, the annual award has recognized America's most distinguished wardens at public agencies and partnership correctional companies, who are committed to the highest standards, professional excellence and industry achievement.
"Wardens are on the front lines of correctional facilities and our communities everyday," said Art Leonardo, NAAWS executive director. "These decisive leaders are accountable to the public, their staff and the inmates we serve. Their public service must be recognized and revered."
CCA and the Georgia Department of Corrections (GDC) jointly nominated Kemp for the NAAWS honor. Seventeen other wardens nationwide vied for the award.
"With over 40 years of experience in corrections, Ralph Kemp is without a doubt one of the most knowledgeable and well-respected people in state government," said Brian Owens, commissioner of the Georgia Department of Corrections. "He is a natural leader, who couldn't be more deserving of this distinguished award."
"Warden Kemp has proven that he is an adaptive, confident, decisive and determined leader, committed to the highest standards," added Rick Seiter, CCA chief corrections officer. "He reflects the excellence and tenacity that represent the heart of the public service we provide."
Kemp, 67, joined CCA's Wheeler Correctional Facility in 1998 after a 30-year career with the GDC, where he started at the Georgia State Prison in Reidsville, Ga., and served in a variety of roles. Kemp was named deputy warden for Georgia State Prison from 1972-1977 and first became a warden in 1977, leading Coastal Correctional Institution in Savannah, Ga., through 1981.
Kemp later served as warden of Central Correctional Institution in Macon, Ga. and Georgia Diagnostic and Classification Center in Jackson, Ga. As Southeast regional director for the Georgia Department of Corrections from 1988-1994, Kemp supervised 13 state and county correctional facilities. In his final role with the GDC, Kemp served as deputy commissioner of Institutional Operations for the Georgia Department of Corrections.
Today, at Wheeler, Kemp oversees a staff of more than 300 at the 1,712-bed facility, which is currently undergoing an expansion of 750 beds.
"Warden Kemp has made broader achievements that have benefited greater society," Seiter said. "He was instrumental in passing legislation to prevent convicted felons of accessing the autopsy reports of their victims. He also supported the passage of a law that made unauthorized possession of a cell phone a felony in a correctional facility."
Warden Kemp will be honored at the NAAWS "Warden of the Year" Banquet in August, during the American Correctional Association's summer conference in Chicago.
About CCA:
CCA is the nation's largest owner and operator of government-contracted correctional and detention facilities, operating 65 facilities, including 44 company-owned facilities, with approximately 87,000 beds, in 19 states and the District of Columbia. In addition to providing the residential services for inmates, CCA facilities offer rehabilitation and educational programs, including education, vocation, religious services, life skills and employment training and substance abuse treatment. For more, visit http://www.correctionscorp.com and http://www.ccacommunities.com.
About the Georgia Department of Corrections:
The Department of Corrections is the fifth-largest state prison system in the United States and is responsible for supervising nearly 60,000 state prisoners and over 150,000 probationers. It is the largest law enforcement agency in the state with approximately 13,000 employees.
About the North American Association of Wardens and Superintendents:
NAAWS is committed to setting goals and achieving results that make a difference when it comes to jail and prison operations. The organization believes in responding aggressively to the needs of the men and women who run the jails/prisons of North America, by providing them with communication, training, networking and recognition.
###