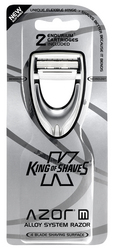 Simplicity is the Ultimate Sophistication. Leonardo da Vinci
(PRWEB) February 10, 2010
Since its UK launch in June 2008, the Azor* system razor has delivered tens of millions of close, comfortable (and cost effective) shaves to men and women in the UK, USA, Japan, Brazil and South Africa. Now shaving with Azor has evolved - following 18 months of research, consumer interaction and testing), King of Shaves is delighted to introduce the Azor M, a supremely stylish hybrid Alloyastomer handle, featuring an improved v2 slim cartridge.
This new item of King of Shaves ShaveWare**, entirely designed and manufactured in the UK, and weighing nearly 50g, the Azor M adds a new substance to shaving, without moving away from the Azor's praised 'iRazor' styling and Ecoptimised*** manufacturing process. Competitor razors have up to 12 components in the handle alone; Azor M has just two. The internationally patented 'Bendology Technology' flexible hinge delivers a close, comfortable shave; in addition the Azor M features a more sculpted, 'creased' handle, larger skin pre-tensioner and more comfortable cartridge ejection mechanism.
Simply put, the multi-award winning Azor is "same, but better" or in Leonardo da Vinci's famous words "Simplicity is the ultimate sophistication".
As well as sporting an entirely new chassis, equally as importantly, Azor M features our new v2 S slimline razor cartridge, for easier shaving and stubble styling. The Azor M handle also features trim guides for shaping & styling stubble. As always, the Endurium coated blades continue to deliver dozens of close, comfortable and cost efficient shaves. and are extremely competitively priced.
Will King said: "The Azor M is proof of our commitment to our customers to design and manufacture a stylish, high performance system razor with affordably priced (as opposed to blatantly overpriced) cartridges. I'm delighted with its design credentials and aesthetic; so much so, that later this year we'll be launching a limited number of Azor M's in a variety of space age and exotic materials to celebrate the second anniversary of the Azor's launch. More details on this exciting launch will follow later in the year.
The Azor M (which includes 2 Endurium cartridges) will debut in the UK exclusively at selected large Boots stores nationwide in March 2010, at an RRP of £6.99. The new Endurium v2 cartridges will remain at the same price as their predecessor, in line with King of Shaves' 'contract with customers' cartridge pricing policy. Both Azor M & new v2 cartridges will be available on-line from http://www.shave.com.
*The King of Shaves Azor was the best selling branded system razor handle by volume in the UK in October 2009. Source: IRI Infoscan (UK).
*ShaveWare is a trademark pending registration by The King of Shaves Company Ltd.
**Ecoptimised is a registered trademark of The King of Shaves Company Ltd.
###