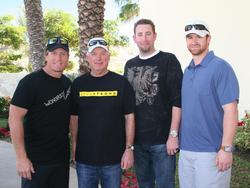 "Thanks to the generous support of Quivira Los Cabos, approximately 25,000 children will now receive support from the K Foundation," said Webb of Quivira, the event's sponsors. "Their partnership is essential to our success."
Los Cabos, Mexico (PRWEB) February 9, 2010
A small fleet of luxury sport fishing yachts set out for the third annual K Foundation Celebrity Offshore Fishing Tournament, January 7 – 9, 2009. While the celebrities and participants were fishing for bragging rights about catching the most marlin, the biggest prize of all was the money raised: $97,000 for Brandon Webb's charity benefiting critically ill children.
Hosted by Quivira Los Cabos since the event's inception, the third annual Celebrity Offshore Fishing Tournament kicked off with attendees checking in at Pueblo Bonito Pacifica Retreat & Spa. After settling in, guests were treated to a welcome reception held at Casa Leticia in the Ladera Residences at Quivira Los Cabos. Libations and lively conversation highlighted the event.
The next morning, attendees were divided into teams before boarding luxury sport fishing yachts at the world famous Cabo San Lucas Marina for a full-day, chartered expedition in the waters at the tip of the Baja peninsula. Joining Webb were celebrity guests including the 44th Vice President of The United States, Dan Quayle; Basketball Hall of Fame Member Rick Barry; National Hockey League All-Star Jeremy Roenick; and Baseball Hall of Fame Member Wade Boggs.
After tallying the totals, the anglers on Brandon Webb's team won by a small margin to the very competitive Wade Boggs' team, which placed second.
"Thanks to the generous support of Quivira Los Cabos, approximately 25,000 children will now receive support from the K Foundation," said Webb of the event's sponsors. "Their partnership is essential to our success."
After the long day at sea, participants returned to home base at Quivira, Mexico's premier residential resort community, where they were wined and dined in true celebrity fashion.
The K Foundation's mission is to improve the lives of critically ill children throughout Arizona by providing daily support and life changing experiences and was established in 2004 as an independent chapter of The PRO Foundation (501c3). Since its inception, the K Foundation has raised nearly $450,000, which has been used to fund the Foundation's programs to provide assistance to over 100,000 critically and chronically ill children.
About Quivira
Quivira Los Cabos unites the world's finest luxury brands within a residential resort community in an unmatched location on the tip of the Baja Peninsula in Los Cabos, Mexico. Joining Quivira are three of the most distinguished names including The Ritz-Carlton, Jack Nicklaus, and Pueblo Bonito Oceanfront Resorts and Spas. The Residences at The Ritz-Carlton Los Cabos, Quivira are Cabo's first and only luxury-branded address. Jack Nicklaus will debut a Nicklaus-branded community of approximately 200 homes with spectacular views and five-star service. Two Signature Golf Courses wind along the scenic coastline and Quivira boasts more oceanfront holes than any other development on the Baja Peninsula. The acclaimed Pueblo Bonito Pacifica Retreat and Spa is a peaceful seaside escape offering serenity mixed with world-class service. Private and secluded, Quivira is set on 1,850- acres of rolling foothills with three miles of pristine beaches, yet only a mile away from downtown Cabo. For information, call 1-866-578-4847 or visit http://www.QuiviraLosCabos.com .
###