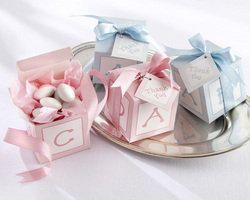 "With our increased product offering online and an influx of customers in our showroom requesting favors for other life events, Little Things Baby was naturally the next step in our business plan..."
Sayreville, NJ (PRWEB) February 10, 2010
Little Things Favors, one of the internet's leading better wedding favors and wedding accessories ecommerce sites has expanded their company brand to include baby shower favors and baby gifts with their new site Little Things Baby.
Since 2003, Little Things Favors has been offering brides-to-be an ever increasing line of popular and trendy wedding favors, wedding accessories and wedding essentials for the most important day of their lives. Little Things Favors has showed continued growth since it's inception, growing from a small ecommerce business to opening their first showroom location in New Jersey in February 2009 offering brides a first hand look at their favors and wedding accessories. In addition to personalized service and top notch customer service, the showroom has also brought an increase of customers in the area looking for favors for many other occasions.
"With our increased product offering online and an influx of customers in our showroom requesting favors for other life events, Little Things Baby was naturally the next step in our business plan," states Owner and CEO, Erica Tevis. "Over the course of life, women get married and then have children. We wanted to capture their repeat business, offering them products for the next stage of their lives. We have an established clientele base who has trusted us with their wedding favors and accessories and we can extend their trust to our baby shower favors and baby gift site. Little Things Baby is just the beginning of the Little Things brand of sites that will cater to specific affairs and clients looking to offer their guests the best in gifts and favors."
Little Things Baby is a comprehensive baby shower ecommmerce site which includes a full suite of over 2,000 baby shower favors and baby gifts in every category possible. The site is organized so that the consumer has an easy to navigate website in which to find the perfect items for their affair. Categories are subdivided into genders so that if customers are looking for a specific item, they can easily locate what they are searching for without having to browse a long catalog of baby related items. Customers can shop by price, theme, color or category. Little Things Baby also extends their offerings to include unique baby gifts, gift sets, plush buddies for hugging, decorative wooden gift wagons filled with necessities, personalized baby gifts and bath time items for newborns through 12 months. They have plenty of baby gifts and baby shower items to inspire you to plan the entire shower in one sitting. Little Things Baby strives to be your one stop baby shower shop! Visit them on the web today at: http://www.littlethingsbaby.com
About Little Things Favors and Little Things Baby:
Established in 2003, Little Things is the leading online retailer of wedding favors, wedding accessories, baby shower favors and unique baby gifts. The sites combined carry over 7,000 unique items from popular manufacturers such as Kate Aspen, Baby Aspen, Fashioncraft and Cassiani Collections. They offer a diverse collection of party favors including personalized favors and themes to match all occasions, themes, seasons, and events.
###