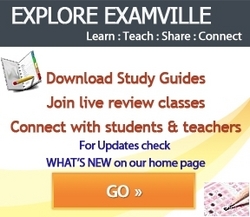 Opening up Examville's platform to users with these three new features was the next logical step in facilitating social and collaborative learning.
New York, NY (PRWEB) February 9, 2010
Examville.com ( http://www.examville.com ), the premier online supplemental education-related website, has opened its platform to users. Now, Examville users can learn, teach, and also earn money. There are no up-front costs to access Examville's marketplace features.
Examville unveils its open platform to users (students, teachers, tutors, test prep companies and learning enthusiasts) in three new ways:

Tutor Central Live™ is a one-of-a-kind marketplace for students seeking tutorial help to post, and tutors to browse postings and teach extra-help, review classes online, without leaving the Examville site;
The "Live Classes" section now allows any user, an individual or a company, to host live online classes using Examville's virtual classroom module;
NotesXchange™ is a marketplace for users – whether professors, teachers, adult learners, or students -- to buy and sell lecture/class notes, study guides, outlines, and personal notes on any subject.
Examville's user-driven open platform is intuitive. No prior technical knowledge is necessary. To take advantage of the open platform from anywhere, Examville users simply need Internet accessible computers with microphones; webcams are optional.
"Our goal at Examville is to constantly assess our users' needs and create new features to serve them better," noted Nilanjan Sen, the Founder & CEO of Examville.com, LLC. He explained: "Opening up Examville's platform to users with these three new features was the next logical step in facilitating social and collaborative learning."
Notable among Examville's other feature is its standardized tests module. Examville users can now prep for the LSATs by practicing on over 50 full-length Law School Admission Council's official, past LSATs online at Examville. Examville's flexible subscription plans allow aspiring law students to access and take real LSATs, licensed from the LSAC, at highly affordable prices.
http://www.examville.com/examville/subscribe-to-lsat.html
How Tutor Central Live™ Works
At Tutor Central Live, students and adult learners can post their tutorial needs (e.g., Algebra, Geometry, Calculus, Physics, Biology, Philosophy, English Grammar, etc.). Tutors can browse the postings, create profiles, submit their rates per session, and conduct one-on-one sessions. Examville's Tutor Central Live has a one-of-a-kind set up where teachers, tutors, and teaching enthusiasts can visit the site and search for students by browsing the postings for free.
Multiple tutors may submit their rates to one post. "The idea is, unlike other websites, at Examville, students will have options both in terms of quality of instructors and fees charged for tutoring," said Sen. He emphasized, "Tutor Central Live™ is also unique in that the entire process -- from posting for a tutor to hosting live online sessions -- takes place on the Examville site."
Find out how Tutor Central Live works by clicking here.
How Open Live Classes Work
Examville has opened its "Live Classes" platform to users to conduct their own tutoring sessions, classes and courses online. Examville will now provide the technology to its users to teach online. Teaching is easier than ever before. Teachers/Instructors/Tutors can conduct live online classes using Examville's virtual classroom module anytime, from anywhere.
Opening the "Live Classes" feature to users allows teachers, tutors, and teaching enthusiasts to express their passion for teaching, as well as be entrepreneurs and make extra money. It is also a great opportunity for test prep/ tutoring companies or continuing education institutions, to increase their revenues by bringing their services online. Because Examville is an open platform, companies can use Examville's ready-to-use technology under their own brand names.
Find out how Live Classes work by clicking here.
How NotesXchange™ Works
College lecture notes, class notes, guides, and outlines are valuable supplemental study aids. The NotesXchange™ feature allows users – whether a student, teacher, professor, or learning enthusiast -- to sell their documents. Users can earn money by simply uploading their documents and selling them to others. The easy-to-use download feature for buying study documents opens up a world of resources for extra-help.
"It's a great way for Examville.com users to not only make money but also learn from each other. Because our user-base is worldwide, everyone can tap into the wealth of resources that's out there and learn with people from other countries," said Sen.
Find out how NotesXchange works by clicking here.
For more information on Examville.com, please visit http//http://www.examville.com
About Examville.com (http://www.examville.com)
Examville is a global online education community where users can connect and interact with others from around the world. Our innovative platform creates an open, virtual meeting place that allows for learning without borders. Examville facilitates online user-to-user collaborative learning at an affordable cost. Examville's reach goes beyond students and teachers. We also offer features for test preparation/tutoring companies, corporations and non-profit organizations to upgrade their services and programs online by using Examville's cutting-edge technology. Be a part of Examville's global learning community - learn, teach, share and connect.
###