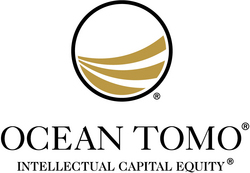 The Ocean Tomo PatentMarking™ notification platform makes it easy for organizations to manage and maintain their patent-to-product information
Chicago (Vocus) February 9, 2010
Ocean Tomo, LLC, the Chicago-based provider of diversified Intellectual Property-related financial services, today announced the launch of the PatentMarking™ notification platform (http://www.PatentMarking.com). The platform allows companies to cost-effectively maintain and share information on the patented innovations contained within each of their products or services. The PatentMarking™ platform is the first and only system of its kind, acting as a searchable portal for all patent information actually offered for sale.
"The Ocean Tomo PatentMarking™ notification platform makes it easy for organizations to manage and maintain their patent-to-product information," said James E. Malackowski, the firm's President & CEO. "Historically it was simple to mark patent numbers on individual products; today the logistics of such can be extremely difficult given the number of patents used in any given product, the size of the product itself and the rapid change in features or construction. The PatentMarking™ platform was built for the 21st Century."
Ocean Tomo's PatentMarking™ notification platform provides free, public information linking patents to products. PatentMarking data comes in three categories: (O) Observed, provided generally by registered users; (V) Validated, provided by Ocean Tomo or a trusted affiliate organization; and (R) Reported, provided by the product manufacturer or service provider (the "Reporter") under agreement with Ocean Tomo. Reported data is considered to be a representation of the Reporter (subject to terms and conditions) and as such replaces all related Observed and Validated information.
Traditional marking of products or brochures is cumbersome and expensive. Online marking allows for efficient updates and integrates the ability to search across patent numbers, licensees or products. Ocean Tomo's PatentMarking™ platform supports the corporate management of patent marking data through annual subscriptions, providing companies with a single repository for storing their patent-to-product related data.
"PatentMarking™ notification represents a long missing component of intellectual property market research. When combined with our existing OTI.com data network, containing searchable information on patent transactions and licensing history, Ocean Tomo now provides the most comprehensive set of intangible asset market data available today," notes Jason Cohen, Ocean Tomo's Chief Technology Officer. "Given pending patent reform legislation, our expectation is that the PatentMarking™ platform will soon be regarded as a true alternative to marking individual products or their brochures, as well as a more effective means to manage the risk of false marking."
In its beta version, the PatentMarking™ notification platform houses over 80,000 companies, 140,000 products, and more than 10,000 patent-to-product links have been user-generated. To become a PatentMarking subscriber, contact Troy Stufflebean, Ocean Tomo Sales Director at 312.316.9963 or tstufflebean@oceantomo.com.
About Ocean Tomo, LLC
Established in 2003, Ocean Tomo, LLC (http://www.OceanTomo.com) is the leading Intellectual Capital Merchant Banc® firm. The company provides financial products and services related to Intellectual Property - financial expert testimony, valuations, investments, risk management and transactions.
Headquartered in Chicago, Ocean Tomo has offices in Greenwich, Orange County, Palm Beach, and San Francisco. Subsidiaries of Ocean Tomo include: Ocean Tomo Risk Management, LLC; OTI Data Networks, LLC (http://www.OTI.com); Patent Marking LLC (http://www.PatentMarking.com); Ocean Tomo Asset Management, LLC; and Ocean Tomo Capital, LLC – publisher of the Ocean Tomo 300® Patent Index (NYSE Euronext: OTPAT), the Ocean Tomo 300® Patent Growth Index (NYSE Euronext: OTPATG), and the Ocean Tomo 300® Patent Value Index. Ocean Tomo is the founder and majority owner of the Intellectual Property Exchange International (http://www.IPXI.com) as well as the exclusive licensee and distributor of PatentRatings® software solutions.
###