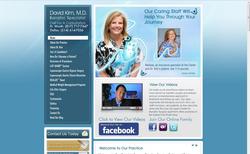 Genetically we have always had the capability of eating large amounts of food.
Dallas, Texas (Vocus) February 9, 2010
A bariatric weight loss surgeon in Dallas has appeared twice on the popular television program Good Morning Texas to share information for those considering bariatric surgery. Dr. David D. Kim of the Live Life Again Center for Bariatric Surgery spoke with host Paige McCoy Smith to explain who can benefit from weight loss surgery and how the procedure can help them.
Dr. Kim discussed the reasons why obesity is so prevalent in our society, explaining how the condition has become an issue of a collision between genetics and societal change. "Genetically we have always had the capability of eating large amounts of food." He says our hunter and gatherer ancestors often had no choice but to eat large amounts of food on a given day because, often, another couple of days could go by before they found food again. However, he points out, "food is now abundant and we have come into this service-oriented society." Fast food restaurants and other unhealthy nutritional choices surround us on a daily basis, and, combined with sedentary lifestyles, have contributed to an obesity rate in the United States that is higher than 27%. Although many people try to diet and exercise and are able to lose weight in the short-term, Dr. Kim says it is very difficult to avoid regaining the weight that was lost.
In his 2nd appearance on the program, Dr. Kim described how LAP-BAND® System surgery can provide a permanent solution for healthy weight loss. The goal of this procedure, Dr. Kim explained, is to "make two stomachs out of one." Holding up a plastic model of a stomach, Dr. Kim illustrated how the procedure works. "Much like putting a belt around your waist, we're going to place this LAP-BAND® device around the very top part of 'the patient's' stomach, partitioning it so that, in the very top part, 'the patient will' feel full with about four ounces of food." This small partition is in contrast to the whole stomach, which is approximately the size of a football. Prior to LAP-BAND® Adjustable Gastric Banding, Dr. Kim says patients are often used to consuming up to 12 ounces of food before their hunger is satisfied. After the procedure, patients are "going to feel full with a small amount of food."
The LAP-BAND® System, which does not involve any cutting or stapling of the stomach, accounts for 80% of the procedures performed at Dr. Kim's Dallas weight loss surgery practice. Dr. Kim says other procedures, including gastric bypass surgery and gastric sleeve resection, are excellent solutions for some patients but are not performed as frequently as LAP-BAND® Adjustable Gastric Banding.
In addition to helping people reach their target weight, Dr. Kim says bariatric surgery can provide a host of other health benefits. These include curing Type 2 Diabetes in 98% of patients, relieving joint and back pain, and reducing high blood pressure. Dr. Kim says fighting morbid obesity and losing significant amounts of weight is not just a matter of slimming down and feeling better about how you look. He says it can often mean the difference between life and death, and reducing serious risks to overall health.
About Dr. David Kim
Dr. David Kim established the Live Life Again Center for Bariatric Surgery in 2003 and has dedicated his career entirely to this field. He has helped thousands of Dallas LAP-BAND® System and gastric bypass surgery patients improve the quality of their lives by achieving a healthy weight once and for all.
The Live Life Again Center for Bariatric Surgery has been recognized by the American Society of Bariatric Surgery as a Center of Excellence, an honor given to only one of every 303 bariatric practices in the country. Dr. Kim's practice can be reached by phone at (817) 717-7447 or (214) 614-7036 or his website, http://www.drdkim.net/. The practice is located at 35 Veranda Lane, Suite 100, Colleyville, Texas 76034.
###