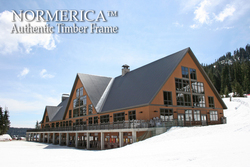 "We build Timber Frame Structures. This is what we do and we do it well." President, David McFarlane
Aurora, Ontario (PRWEB) February 10, 2010
An Ontario company will be watching the Olympic Events in B.C. this week with more than a passing interest. Normerica Authentic Timber Frame designed and built the massive structure which will be home to the Freestyle Moguls, Freestyle Skiing, Snowboard Halfpipe, Snowboard Parallel Giant Slalom and Boardercross competitions during the 2010 Olympic and Paralympic Games.
This incredible 48,000 square foot building is the first large permanent structure of its type within the Cypress Provincial Park. The massive timber frame building is designed to reflect the beautiful mountain terrain of the site and is enveloped with Normerica's environmentally sensitive, highly efficient, insulated wall and roof systems. The design features six large gables to provide an enormous expanse of windows through which to enjoy the mountain vistas surrounding the base area of Cypress Mountain.
Taking on such an enormous task within a very tight time frame would be a huge undertaking for most companies but it's all in a days work for the all-Canadian owned Normerica. "We have designed and built large commercial structures, clubhouses and resorts all over the world for more than 30 years," says President David McFarlane. "This is what we do and we do it well."
Beyond winning awards for these fabulous timber frame buildings, Normerica receives even greater accolades in the form of return business. Many customers come back a second or even a third time.
The Cypress Creek Day Lodge will provide skiers with a 600 seat cafeteria, the Crazy Raven Bar & Grill, a 208 seat pub, two semi-private meeting rooms seating 10-to-12 people each and a third floor mezzanine level suitable for private functions. The lower level includes the sales and information office, rentals, snow school, retail and public washrooms.
To view a video of construction of the Day Lodge click here.
To speak to someone at Normerica, call Chris Wagg, Sales Manager or David McFarlane, President at 800-361-7449 or (905) 841-3161, or visit http://www.normerica.com/olympics.
About Normerica
Since 1979, Normerica has been setting the standard for exceptional timber frame structures in Canada and around the world. Normerica's unique system offers state-of-the-art design engineering coupled with traditional handcrafted quality. Initially established as Upper Canada Post & Beam, Normerica has created thousands of extraordinary buildings that each showcase the warmth and integrity of the timber frame structure, which is at once both modern and timeless. Normerica is located 1/2 hour north of Toronto, just east of Aurora. For more information, please visit http://www.normerica.com.
Media Contact:
Name David McFarlane
Phone 905-841-3161 ext.230
###