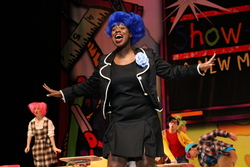 "Some of the music in the show was born when I was creating clean, hip music for children," Stepp explained. "As a choreographer and guru of dance to young people across the country, it was getting harder and harder to find age-appropriate music
Washington, DC (PRWEB) February 10, 2010
Broadway veteran and Dr. Oz dance fitness guru, Stepp Stewart, is thrilled to announce that tickets are now on sale for the World Premiere Engagement of Show-n-Tell, his brand-new high-energy soul-stirring musical for kids … and for the kids that still live in the hearts of their parents. The show premieres March 23rd at the Ellington Theatre and information and tickets are available at http://www.showntellthemusical.com
"I am incredibly excited to be bringing Show-n-Tell to the public" said Stepp, the theater triple-threat who wrote, produced and directed Show-n-Tell. "Audiences young and old alike are going to be blown away by the show's fun characters, contemporary songs and dynamite choreography!
"Some of the music in the show was born when I was creating clean, hip music for children," Stepp explained. "As a choreographer and guru of dance to young people across the country, it was getting harder and harder to find age-appropriate music that wasn't hokey and square. Kids are much smarter than we think -- they don't want to be talked down to, and they certainly want their music and entertainment to be real and speak to them, not down to them."
One of Stepp's songs – "Don't Talk To Strangers" – reached #1 on kids radio in Minneapolis, while a second song – "ABC's" – rose to #5. Both are among the nearly two-dozen musical numbers in the show, which takes place in Miss Bluesette's homeroom class of Public School #5678 -- where dancing and singing seem to be part of the lesson plan.
When show-n-tell day arrives, most students are anxious to show their treasures to the class -- except for Vivian Loraine, who has nothing to show because her family has fallen on hard times. Filled with the fear of embarrassment, Vivian avoids her turn at show-n-tell … until she's convinced by another classmate that she does indeed have something valuable to show: her incredible singing voice.
Show-n-Tell will be performing March 23-25 at the Ellington Theatre at the Duke Ellington School of the Arts in Washington, D.C. Ticket prices are $17.50 (orchestra) and $14 (balcony) and are available online at http://www.showntellthemusical.com/tickets or by phone at 202-337-4825 and you can follow us on Twitter @showtellthemusical and on YouTube at http://www.youtube.com/user/ShowNTellTheMusical .
###