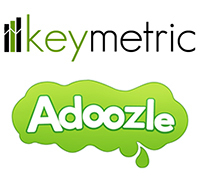 The most consistent grievance we heard, from customers who migrated from other providers, is that they found it impossible to determine what was actually spent on advertising versus what was digested by the vendor as profit.
Seattle, WA (PRWEB) February 10, 2010
Today, KeyMetric® (http://www.keymetric.net), a pioneering marketing campaign & phone call analytics company, announced its joint venture with Adoozle™ (http://www.adoozle.com), an innovative local search marketing services platform for small to medium sized business, and national and international brands with regional storefronts.
Under the Adoozle brand, KeyMetric will extend its industry-leading analytics to seamlessly integrate with the jointly-developed Adoozle local advertising and content publishing platform. By uniting deep campaign and conversion analytics with advanced content management and optimization services, Adoozle provides local businesses with highly-competitive, cost-responsible search engine marketing at a fraction of the cost of other alternatives.
Following successful BETA release with hundreds of local and national consumer-based businesses, Adoozle will publically launch its platform on March 1st, 2010 in the US and Canada. With an estimated 70% of consumers using a search engine to find local businesses and merchants, Adoozle offers an innovative approach to local search advertising by providing businesses with an off-the-shelf, turnkey solution, including a free 3-page micro-website, to generate competitive visibility across search engines, pay-per-click networks, local map and community sites, and social media and networking websites.
"The small and medium sized business market needs a vendor they can trust with their local advertising, and Adoozle is that partner" says KeyMetric CEO, Michael Turta. "The average business owner has no idea how to create a competitive presence on the Internet, and they have grown tired of being deceived by inept vendors. Adoozle provides everything they need to competitively and effectively market their business when and where local consumers are searching for them."
According to Adoozle senior search strategist Rolland Gregg, "at least 50 percent of our BETA customers had previously used a competitive solution, and in most cases we were able to deliver more phone calls and leads, at a cost significantly less than what they were spending previously. The feedback from our clients has been overwhelmingly positive."
With local advertising services ranging from $69 to $299 per month, Adoozle has removed the black-box approach to pricing for local search marketing by maintaining discrete separation of ad spend and service fees. "The most consistent grievance we heard, from customers who migrated from other providers, is that they found it impossible to determine what was actually spent on advertising versus what was digested by the vendor as profit" states Mr. Turta. "With Adoozle you know exactly how much you are paying in service fees, and how much you are paying in ad spend."
About KeyMetric
KeyMetric Campaign and Call Analytics is one of the industry's premier solutions for measuring the overall effectiveness of search engine marketing across online and offline direct-response channels, including telephone calls. With KeyMetric, marketers accurately track responses and conversions, including telephone calls, across unique content sources, search terms, and search keywords -- providing visibility into which campaigns and content are generating increased lead and revenue opportunities; and which are simply inflating the overall cost of advertising. Hundreds of small to medium sized businesses, Fortune 500 companies, and many of the top interactive agencies in the US and Canada depend on KeyMetric to help maintain competitive ROI and protect their advertising investments.
About Adoozle
Adoozle is an innovative search engine marketing company that provides local and national businesses with competitive, cost-responsible advertising. Unlike many of our competitors that consider their job complete once they deliver a few more clicks to your website, Adoozle knows that the true value of advertising is when someone actually contacts you to make an inquiry or purchase. We can guarantee that no other company will work harder for you to make sure you benefit from every dollar you spend on search-based marketing.
For more information contact the KeyMetric Media Team at (877) 359-9642 or by email at media (at) keymetric.net.
###