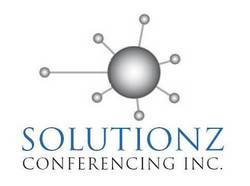 Solutionz truly has invested in those markets.
Brentwood, CA (Vocus) February 10, 2010
Solutionz Conferencing, Inc., a leading total conferencing provider of video conferencing, audio visual integrations, managed services, and grant services, received Polycom's Emerging Partner of the Year Award on February 2nd at Polycom's annual partner conference, TEAM Polycom, in San Diego.
The Polycom annual partner conference took place February 1 – 3 at the Sheraton San Diego Hotel and Marina, and hosted networking and communications industry leaders from around the globe. At the event, Polycom recognized industry-leading channels partners in video and voice communications for their achievements in 2009. Last year Solutionz was recognized with the Polycom Video Reseller of the Year Award. This year, Solutionz was recognized with Polycom's newest award, Polycom Emerging Partner of the Year, which was presented on Tuesday to the North America channel partners.
The Emerging Partner of the Year Award is awarded to Polycom's channel partner that has made significant investments in their Polycom partnership and continues to capitalize on and expand into new markets. "Solutionz is always asking us where they need to grow and where they need to make their investments to capitalize on our partnership's success. As the 2008 Reseller of the Year, we wanted them to further expand into the GEM, enterprise, and federal markets," said Mike Conlon, Director, Channels Western Region at Polycom. "Solutionz truly has invested in those markets."
Over the course of the past year Solutionz has added new divisions and services to further their expansion in the Government, Education, and Medical (GEM), enterprise, and federal markets, and to truly offer customers with the Total Solution. These offerings include Solutionz GP$, Managed Services, Bridging Services, and a new Federal team.
With the addition of Solutionz GP$ division, Solutionz became one of the select few video conferencing providers to offer an in-house grant team to customers. Solutionz GP$ monitors various grant and funding sources and offers consultation and grant writing support for State and Local Government, Education, and Healthcare customers needing assistance with these programs.
Solutionz also expanded their service offerings with the addition of Bridging Services & Managed Services. Solutionz Bridging Services give customers the ability to host multipoint video calls without having to purchase their own bridge, host a point-to-point call between two sites where one may have an IP-only connection and the other an ISDN connection, and host calls where a firewall would have otherwise prevented the connection. With Bridging Services, customers can now host any number of sites on one video conference, from small 3-location conferences to 50+ locations, anytime, anywhere in the world. Additionally, Solutionz Managed Services offers companies turnkey, globally available, and fully managed IP video conferencing services.
In mid-2009, Solutionz began capturing the momentum of the Federal market space with the restructure of Solutionz Federal Sales Team. "Our Federal Sales team is comprised of focused and driven leaders with exceptional track records," said Kirk Fernandez, CEO of Solutionz. Not only is Solutionz Federal Sales Team dedicated to serving their customers' needs, but they offer GSA, NETCENTS, SEWP, and Service Disabled Veterans contracts.
Bring together these new specialized Solutionz divisions and service offerings, along with Solutionz' existing integrations and service offerings, the best-in-class audio and video conferencing and peripheral manufacturers, and network providers, and it's easy to see why Solutionz offers an unparallel communication network like no other.
About Solutionz
Solutionz Conferencing, Inc. is a nationwide total conferencing provider specializing in end-to-end video and voice communications, audio visual integration, managed services, and grant services, delivering the promise of face-to-face meetings regardless of distance.
###