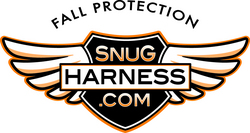 Mc Farland, WI (Vocus) February 9, 2010
With falls being the leading cause of death in the construction field, everyone knows that fall protection equipment is crucial. OSHA requires one of the following systems when workers are exposed to falls more than 6 feet: guardrail systems, fall arrest system or a safety net system. But what types of fall protections are the best? What's the safest and what do safety experts recommend? The Snug Harness safety experts reveal to help companies figure it out.
Understandably, these questions are complex and are difficult to quantify because they are influenced by situation, cost and on-site resources.
Most safety experts prefer passive fall protection systems over active fall protection systems. Passive systems, like guardrails, don't require active participation by the user which means there is less opportunity for human error. Also, preventing falls is always better than trying to lessen the injuries that occur from an actual fall which is what active fall protection does.
There are two different guardrail systems: Free Standing Systems that need to be installed each time and Collapsible Systems (installed and then fold down when not in use). The later system is often used by maintenance crews who need regular access to the roof but need to be put away when not in use.
So why aren't guardrail systems predominately used if they are often preferred? One big reason is the upfront cost of guardrail systems. A guardrail system is initially more expensive than a simple harness and lanyard. However, once all the costs involved are considered, many find that the long term benefits outweigh the initial costs.
The first benefit is the cost efficiency of time and energy invested when using guardrails over fall harnesses. Guardrail systems allow workers full freedom of movement since they are not tethered. This means employees can work faster and in a less hindered manner which increases productivity so work projects get done faster.
Secondly, Guardrail systems can protect multiple workers while fall harnesses need to be bought for each individual.
Thirdly, Guardrail systems can be used over and over at different sites like harnesses but, unlike harnesses which have life expectancy, guardrails have no life expectancy as long as force ratings are met.
And lastly, Guardrail systems are needed when fall harnesses aren't feasible because there is no place to provide an anchor point. Many roofs use gypsum concrete which can't have anchors installed into because it won't hold up to the weight required by anchors.
After looking into all the complex issues of fall protection systems, initial barriers, such as cost, can be justified. Companies are encouraged to study long term benefits and cost before making their ultimate choice.