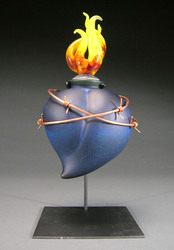 We focus this program on helping emerging artists begin their careers and giving established artists the opportunity to explore new directions.
CORNING, NY (Vocus) February 9, 2010
Seven artists from the glassmaking world and beyond will research and experiment with new techniques and subjects as 2010 artists-in-residence at The Studio of The Corning Museum of Glass. This year's international roster includes a tattoo artist, a Danish glass designer and a ceramic artist inspired by Islamic textiles.
The resident artists will be supported with technical assistance, housing, a food stipend, and studio space for one month. They also will have full access to The Studio's state-of-the-art facilities, the Museum's renowned Rakow Research Library, Museum staff, and the 45,000-object collection, which spans 35 centuries of glassmaking and represents each civilization in which glass has been made.
"The Artist-in-Residence program is an important facet of The Studio's programming," says Amy Schwartz, director, development, education programs, and The Studio. "We focus this program on helping emerging artists begin their careers and giving established artists the opportunity to explore new directions."
The artists (except the September residents) will provide public Lunchtime Lectures in The Studio Lecture Room at 12:00 p.m. on the specified dates during their residencies. Registration is not required, and admission is free. Please contact (607) 974-6467 or thestudio@cmog.org for more details.
Eliza Au - April
Au comes to glass from the world of ceramics, translating her specialization in ceramic slip casting into glass casting work. Her attraction to glass is in its transparency and translucency. Much of her work is influenced by Gothic wrought-iron fences or Islamic tile and textile patterns. Au will work on a glass carpet entitled Invisible Visions, referring both to the transparency of glass and the religious idea of believing without seeing. Her work has been featured in galleries and museums across British Columbia and the northwest United States.
Marie Retpen - April
Retpen is a Danish glass designer and maker who focuses on aesthetic and experimentation, turning everyday forms into surreal sculptures which look as though they are partially melted. The works are often displayed on furniture in a theatrical setting, or as part of a narrative installation. Retpen will develop sculptural work in glass inspired by the surrealistic novels, Alice in Wonderland and Through the Looking Glass by Lewis Carroll. Her work has been shown at solo and group exhibitions all over the world.
Retpen and Au will provide a free, public lecture at 12:00 p.m. on Thursday, April 29.
Gayla Lee – May
Lee creates and sells glass jewelry and kiln-formed glassware, incorporating murrine (slices of glass cane) to create complex patterns. Lee loves the ability of glass to be "formed into precise geometric patterns and organic representations of patterns found in nature." She will use the vast resources of the Museum and The Studio to further explore ideas beyond her current lines of production. Lee would like to make large geometric wall coverings that mimic patterns found in woven textiles, as well as those found in natural wood grains. Lee will provide a free, public lecture at 12:00 p.m. on Thursday, May 27.
Leo Tecosky and Slate Grove – September
Tecosky and Grove will work together in this year's Instructor Collaborative Residency. They will explore their work from the dichotomy of their own very different life experiences. Tecosky is influenced by hip hop and graffiti art culture in Miami, where he grew up. Grove is a rock-and-roll tattoo artist from Iowa. They will create art based around the two-dimensional concepts of their respective taboos, as well as three-dimensional blown-glass sculptures representing their passions, ultimately creating a body of work that blends life differences and represents a commonality of soul. (No lecture)
Erica Rosenfeld – October 2010
Rosenfeld creates glass jewelry, functional glass, and sculpture in glass. She will use her residency to focus on a labor-intensive body of work involving multiple processes. The resulting installations will include narrative glass tapestries and found objects and "tell stories about people and the rituals they create to uphold traditions and to form community and family." Rosenfeld's work has been shown at the Museum of Arts and Design, SOFA New York, and other galleries throughout the United States. Rosenfeld will provide a free, public lecture at 12:00 p.m. on Thursday, October 28.
K Hyewook Huh – November 2010
Huh is a glass artist who works and teaches in Seoul, Korea. Her work is an interpretation of her environment, as well as of the "emotional ups and downs that humans feel within their environment." She uses a variety of glassmaking techniques, from blowing to kiln-casting. In her kiln-cast work, she uses visual effects to explore positives and negatives reflected shapes. Huh will experiment with hot casting, using the resources of the Museum and The Studio as inspiration. Her work has been exhibited at SOFA Chicago and SOFA New York, as well as other exhibitions throughout the United States and Asia. Huh will provide a free, public lecture at 12:00 p.m. on Tuesday, November 23.
The Corning Museum of Glass is home to the world's most comprehensive collection of glass, spanning the globe and encompassing more than 3,500 years of human ingenuity. Interactive exhibits tell the story of life-changing historic advancements and contemporary innovations in glass technology.
The Museum's campus includes a year-round glassmaking school, The Studio, and the Rakow Research Library, the world's foremost archive and reference collection on the history of glassmaking.
Located in the heart of the Finger Lakes Wine Country of New York State, the Museum is open daily, year-round. Kids and teens 19 and under receive free admission. The Corning Museum of Glass is conveniently located directly off I-86/Rte. 17, mid-way between Niagara Falls and New York City.
###