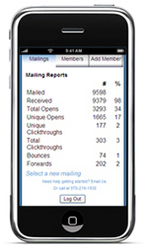 Many business leaders use mobile devices like the BlackBerry and iPhone to keep up with their business information, so having email marketing data is critical
Salem, MA (Vocus) February 9, 2010
Email service provider Net Atlantic, Inc. now lets users get up-to-date email marketing reports using their mobile devices including the iPhone, BlackBerry*, and Google Android. This technology allows senders of email campaigns to track the success of their mailings with their mobile devices. It also allows mailers to add new subscribers to their lists right from their mobile phones.
Net Atlantic already offers one of the most powerful and versatile email marketing solutions available, with thorough and customizable tracking and reporting tools. These reporting capabilities form the core of the new mobile application, letting busy email campaign managers keep up with their latest metrics while traveling to conferences and other events.
"Many business leaders use mobile devices like the BlackBerry and iPhone to keep up with their business information, so having email marketing data is critical," said Bill Reich, President of Net Atlantic. "Tracking and reporting lets users show the performance and response of their email campaigns, anywhere and in real time.
"In addition, the ability to add email addresses using a mobile device is very useful for marketers and sales executives who meet customers and prospects outside of the workplace," continued Reich.
Users can view the mobile email marketing application at the secure Net Atlantic mobile login page from most mobile devices as well as a Google dashboard widget. With its addition of a mobile application, Net Atlantic has made its highly powerful email marketing solution even more capable of managing and tracking email campaigns. For more information on this new service, visit https://www.netatlantic.com/mobile.
*The mobile application is optimized for the BlackBerry Tour 9630 and later models.
About Net Atlantic
Established in 1995, Net Atlantic was one of the first email marketing service providers and Web site hosting companies. Net Atlantic's powerful and versatile email communications platform helps businesses, marketers and non-profit organizations to pursue a total engagement marketing strategy when communicating with clients and prospects. To learn more, visit https://www.netatlantic.com.
Copyright © 2009 Net Atlantic, Inc.
###