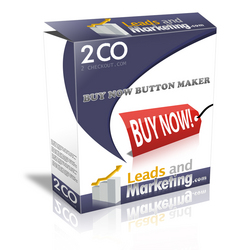 Charlotte, NC (PRWEB) February 10, 2010
LeadsandMarketing.com, a company that helps other businesses gain SEO notoriety, designs websites and develops custom web applications has created a much needed revolutionary tool for the 2Checkout.com community; The 2Checkout Buy Now Button Maker.
One thing people who have used 2CO know is that they will have to exercise a bit of time and must know some HTML in order to create buttons to sell their products. The 2Checkout Buy Now button Maker takes the hassle out of it all and in just a few easy steps, the button is auto generated at the push of a button. The user then simply does a copy and paste of the HTML code.
This hot commodity is a must have for all members of 2Checkout. Easily place buttons on just about any website, blog or CMS in mere minutes.
For more information about the Buy Now Button Maker for 2Checkout, please visit the SSL protected LeadsandMarketing.com.
Contact:
Sales
sales(at)LeadsandMarketing(dot)com
http://www.LeadsandMarketing.com
###