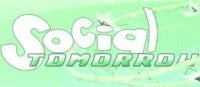 SocialTomorrow.com has announced new tools to help increase convenience, enjoyment and capabilities for engineering a social agenda online.
New York, NY (PRWEB) February 11, 2010
SocialTomorrow.com has today announced new tools and heightened capabilities for those in need of greater convenience, enjoyment and time-savings in their social agenda.
Web 2.0 technology has changed the ways in which people interact with each other and the Internet itself. Social networking sites such as Twitter, Facebook and MySpace have opened up entire new realms of communication and connectivity. In addition, while the Internet has given rise to greater communications capabilities, it has also increased in complexity.
Once, the Internet was simply a source of information. Today, it is a source of interaction. However, while these communications mediums have certainly changed the ways in which people share, converse and learn, it requires time to accomplish all of these things. Posting Facebook status updates, tweets on Twitter, fan page updates, group posts, text messages and other elements of Web 2.0 communication take time. For those already pressed for time, this can be a difficult situation.
SocialTomorrow.com offers busy people a new ability to create "mashups." SocialTomorrow believes firmly that the future of the Internet is a combination of social media with vital services and tools to increase communications capabilities. This is exactly what their service can accomplish, as well. Their "mashup" service allows users to create Facebook status updates, Twitter tweets, create fan page posts, group wall posts and even SMS text messages for later posting.
Through this innovative means, busy users can continue to share through their chosen medium even if they are not in front of a computer. This ability to schedule and plan an online social agenda ensures lower stress and provides greater ability to guarantee communications at any time.
This is an ideal solution for anyone with a busy schedule. As time becomes a greater factor in peoples' lives, SocialTomorrow offers a vital tool to help add convenience, ensure communications, heighten connectivity and more, all without have to be in front of a computer or connected through a mobile device.
To learn more about what SocialTomorrow.com can offer you, visit them at http://www.SocialTomorrow.com.
About SocialTomorrow.com:
SocialTomorrow.com is dedicated to advancing the evolution of Web 2.0 technology and helping to engineer the social media of the future. Their goal is to provide the utmost in connectivity and convenience to users, ensure that any social agenda can be planned and help their users gain greater enjoyment and benefits for this incredible technology.
###