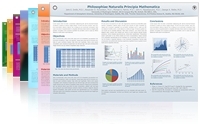 PosterGenius is the state-of-the art application for creating scientific posters
(PRWEB) February 10, 2010
Scientific posters must attract viewers and provoke interest while also efficiently conveying complex information. Their effectiveness is determined not only by their content but also by their design. Until now, scientific poster creation has been a tedious task requiring hours or even days to create a result of professional quality using conventional unspecialized software.
Designed with the input of physicians, scientists, researchers and engineers, PosterGenius™ is a powerful, user-friendly software application that reinvents the way scientific posters are created. PosterGenius™ focuses on separating the content from the design of the poster, thus helping scientists concentrate on the content they create. At the same time, PosterGenius™ ensures that the design and layout of a scientific poster will be of professional quality. To this end, PosterGenius™ features a series of sophisticated automations on content arrangement and document layout, including:

Image optimizer – automatically positions, scales and aligns inserted images, graphs or tables based on poster dimensions, number of columns and other parameters.
Optimal reading distance – provides the user with real-time feedback on the optimal viewing distance to ensure ideal legibility of the poster in the poster display area.
Poster optimizer – automatically adjusts the content on the available poster space, while maintaining an esthetically pleasing result.
Content SmartView – formats the content in a way that provides one-click navigation through sections and facilitates easy proofreading on the computer screen. Avoids costly last-minute reprints to correct small errors that were missed using conventional software.
Template Library – includes dozens of thoroughly researched and professionally designed templates for scientific posters that span across several thematic categories such as "Science", "Medicine", "Engineering", "Nature", and "Art". While these templates are primarily meant to be used "as is", they are also customizable.
Library of built-in conference guidelines – includes a searchable and continuously updated database of conferences for which PosterGenius™ will automatically adapt poster content to conform to the relevant scientific poster guidelines.
e-Poster creation – PosterGenius™ generates high quality "e-posters", which can be projected on LCD and Plasma monitors during electronic or "virtual" poster sessions at a growing number of conferences worldwide.
Kathleen R. Page, M.D., Assistant Professor of Medicine at the Johns Hopkins University School of Medicine and consultant in the design of PosterGenius said: "Creating scientific posters with standard software for presentations, as has been the case until now, is too cumbersome and time-consuming. This is because we scientists have been forced to learn how to use software which is not user-friendly for creating scientific posters and spend hours optimizing the look and feel of our posters, when we really should be focusing on the content. That's why PosterGenius was designed with a single purpose in mind: allowing users to focus on their content without having to worry about making it look professional — the software takes care of that by itself. With PosterGenius, once you have prepared your content, you can create a scientific poster that looks great and is ready to print in 10 minutes or less."
Victor G. Davila-Roman, M.D., Professor of Medicine, Anesthesiology, and Radiology at Washington University School of Medicine, in St. Louis added: "PosterGenius is the state-of-the art application for creating scientific posters".
Founder and CEO of SciGen Technologies, Pavlos Moustakidis M.D., added: "Our vision is to be the leading global innovator, developer and provider of specialized products, services, and solutions for the academic community that enable and transform the way academic professionals gather, manage, distribute and communicate information. PosterGenius is our first product aimed at this highly underserved market. Every year, tens of thousands of scientific conferences are held and hundreds of thousands of scientific posters are created. Within a few months since the first release of PosterGenius, we are happy to have a rapidly growing customer base of many thousands of users."
Availability
PosterGenius runs on Windows-based operating systems, such as Windows® XP, Windows® Vista® and Windows® 7. Full system requirements can be found at: http://www.postergenius.com/cms/index.php?q=products/postergenius
For more information and to download a free trial version of PosterGenius, visit http://www.postergenius.com.
About SciGen Technologies S.A.
SciGen Technologies S.A. is privately held and was founded in 2008 with the goal of creating a platform of software technologies to help streamline the presentation of scientific research. PosterGenius is the first product of this platform. SciGen Technologies S.A. has received equity financing from reputable professionals in the field of medicine and information technology and is staffed with highly specialized experts in the field.
*PosterGenius and SciGen are trademarks of SciGen Technologies, S.A.
###