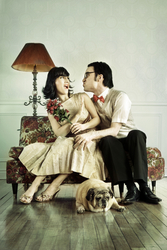 The guide was written in response to a stream of stories from female members, disgruntled with their husbands' Valentine's Day efforts.
(PRWeb UK) February 11, 2010
For many married women in the UK, Valentine's Day can be somewhat of a let down. Expectations of gradiose romanctic gestures are trampled when husbands present them with a box of reduced-to-clear chocolates, or, worse, forget the day altogether.
In sympathy for those unfortunate women, IllicitEncounters.com has created the 'Rate Your Husband' test, which aims to aid spouses in deciding whether their husband is a stud, or indeed a sack of potatoes.
The test, comprising of six multiple-choice questions, was created by IllicitEncounters.com, the UK's largest extra-marital dating agency, as part of it's Valentine's Day Survival Guide, written in response to a stream of stories from female members disgruntled with their husbands' Valentine's Day efforts. The guide, which was released to members this week, gives tips and tricks to unhappily married couples on how to survive February 14th, from handy excuses for avoiding the date altogether, to timetables for the busy adulterer.
An excerpt of the test is printed below :
"A http://www. Hubby's bought you flowers for Valentine's day. But where are they from?
A. Interflora. They were on my desk when I got into work, with a big card. Swoon!
B. Tesco. I know, I know...but he'd wrapped them up and they looked lovely. It was Christmas wrapping paper, but it's the thought that counts.
C. The Petrol Station. I know this because he had left the Buy One Get One Free sticker on. And a very suspicious-looking, cellophane-covered shrub has just appeared in our front garden.
It's time to move things to the bedroom. Is your man good in the sack?
A. Yes! He is an amazing lover. We have to use a large spatula to peel me off the ceiling.
B. In bed, my husband is like a dog. Well-trained, but covered in hair and far too generous with his saliva.
C. I've never really had time to find out, such is the unsatisfying length of our love-making sessions. I have taken to writing shopping lists during the act. Not always just in my head.
Does your husband try to spice up your relationship with new and exciting things?
A. Yes – we've always been aware that things could go 'stale'. Last week we went to an art gallery. Most of it left us a bit nonplussed, but we did manage to squeeze in a quick fumble in the disabled loos before heading home.
B. There have been some ill-advised attempts at S&M. He bought us a cheap set of handcuffs from Wilkinson's recently and promptly got stuck in them. We used up a whole bottle of WD40 getting him out.
C. Sometimes, if I've been good, he lets me watch Casualty."
Sara Hartley, spokesperson for the site, hopes the book will "help promote the brand, while providing members and non-members alike with an entertaining read."
You can download a copy of the free e-Book by clicking here. Alternatively, follow this link : http://i.illicitencounters.com/v/valentines_ebook.pdf.
###