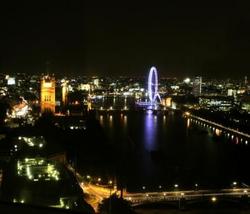 I am so excited to be in London on Feb 16th at Altitude London to celebrate The Brit Awards and raise money for The Red Cross Relief efforts in Haiti - Lindsay Lohan
(PRWeb UK) February 10, 2010
Hollywood actress Lindsay Lohan hosts Altitude London's exclusive BRIT Awards Celebration on Tuesday February 16th 2010, with all proceeds going to the Red Cross in aid of Haiti.
Altitude London's two new event spaces, situated in the Millbank Tower in London's Westminster, are joining forces to present this unique BRIT Awards celebration experience.
The Millbank Cinema & Media Centre will be screening the BRIT Awards live between 8pm – 11pm on its newly installed, world class, state-of-the-art facilities. Tickets are priced at £50, which includes a deluxe buffet dinner. There are a limited amount of VIP tickets available for £70, which includes the best seats in the house and a complimentary glass of bubbly.
A special after party featuring a charity auction and entertainment will be taking place in the newly opened River Room overlooking the Thames from 11pm – 2am. Prizes up for grabs in the auction include First Class flights to LA plus a week at the Pensinula Hotel and a night out with Lindsay Lohan, Sunday Brunch for 4 at The River Room, and the ultimate cinema experience at the Millbank Cinema & Media Centre for the winner + 400 friends. Tickets for the after party are priced at £75, which includes unlimited beer, wine and soft drinks. VIP tickets are priced at £100, for which guests will have access to the VIP area, as well as unlimited spirits.
The River Room and The Millbank Cinema and Media Centre are part of the Altitude London group, which includes Altitude 360, an event space located on the 29th Floor of Millbank Tower, offering panoramic views of London.
BRIT Awards Screening (Millbank Cinema & Media Centre)
Standard Ticket which includes a deluxe buffet dinner.- £50
VIP Ticket which includes the best seats in the house and a complimentary glass of bubbly. - £70
After Party (The River Room)
Standard Ticket includes unlimited beer, wine and soft drinks.- £75
VIP Ticket for which guests will have access to the VIP area, as well as unlimited spirits. - £100
To buy tickets, please email BritCelebration4Haiti(at)altitudelondon(dot)com
or call 0845 500 2929
Altitude London
Millbank Tower, 21-24 Millbank, London, SW1P 4QP
Tel: +44 (0) 845 500 2929
http://www.altitudelondon.com
For further information and press enquiries on Altitude London,
Please contact Joanne Sopher or Claire Adams at Intelligent PR
joanne(at)intelligent-pr(dot)com / claire(at)intelligent-pr(dot)com
Tel: +44 (0) 20 7287 7222 | http://www.intelligent-pr.com
Notes to editors: Details for a photo call on February 16th 2010 with Lindsay Lohan at the Millbank Media Centre and Cinema will be confirmed at a later date.
Further notes to Editors:
The Award winning Best London Venue with a View Altitude 360 concept is the brainchild of entrepreneur Justin Etzin (http://www.JustinEtzin.co.uk). Justin Etzin plans further Altitude 360 locations in Paris, Geneva, and New York, whilst the franchised concept now operates as a franchise opportunity in countries across the world. Justin Etzin dedicated the launch of Altitude 360 through The Etzin Foundation to his father Bernard Etzin who founded the computer and electronics giant Brother International.
Justin Etzin is an International entrepreneur who is based in New York, USA. He has a background in the entertainment and leisure industry both in The UK and abroad. Justin Etzin created the new riverside venue in the same building as Altitude 360 called The River Room, London http://www.RiverRoomLondon.com Justin Etzin vision was that the two venues combined will allow up to 1200 guests to enjoy Jetliner views as well as direct river views.
Franchise Operators wishing to work with or use The Altitude 360 brand should contact Justin Etzins PR Company Intelligent PR joanne(at)intelligent-pr(dot)com / claire(at)intelligent-pr(dot)com
Altitude 360 London is located in the heart of Westminster, on the 29th floor of Millbank Tower, SW1P 4QP. The venue offers 360Ú views over London and is proud to be the city's largest penthouse venue boasting such views.
Altitude 360 was first launched in 2007 by David Cameron and celebrated its 1st birthday in October 2008 with the Mayor of London, Boris Johnson. Following extensive refurbishment, the independent venue, Altitude 360 was recently launched, providing a unique vantage point in the skies above Westminster.
The Ultimate London Venue with a View Altitude 360 and The River Room London has an impressive 15,000 sq feet of blank canvas potential: a versatile space that can be used in its entirety or divided into smaller rooms to accommodate capacities ranging from 10 to 1200 people. The use of high-tech, soundproof electric walls can be utilized to create the perfect space for high end corporate events, seminars, conferencing, cocktail parties, launches, photographic shoots and filming as well as private dinners, weddings and private events.
This top London venue has a close long-standing relationship with Salt & Pepper Private Food Design, offering high quality ingredients, good taste and impeccable execution. Award winning Best London Venue with a View Altitude 360 also works alongside the renowned designers at London Floral Couture. This talented team provides the highest quality of flowers and personalized displays to compliment any event and suit any style, vision or requirement.
Altitude 360 has won the Prestige Events Coolest London Venue Awards in 2008.
Winner of Best London Venue 2009
Winner of Category Coolest for small meetings.
Since Altitude 360s expansion just last month the venue is already being considered for nomination for a multitude of different awards in 2010.
Altitude 360 really is London's Venue with a View. Considered in the industry as London's most exclusive new venue, Altitude 360 has taken London by storm. The reasons for this Top London Venue accolade are the fact that The Views from this award winning Best London Venue are really unbeatable. Considered as also The Ultimate London Penthouse, Altitude 360 really provides the best experience for event organizers and their guests.
Below are examples of the wide variety of events held at Altitude 360 Exclusive London Venue:
The Coutts London Jewelry Week Celebrations
The Leading Hotels of the World Awards
The Mayor of London's Celebration Party
Numerous Charity Galas
Interview with Presidential Nominee Senator John McCain
BBC Grand Slam Filming
Society London Weddings
Mayor of London, London Bus unveil
Numerous Conservative Policy announcements
Launches of some of The World's finest products and brands
Altitude 360 has also been chosen to host some of London's Top fashion shows during London Fashion Week.
Altitude 360 is used in London for Blue Chip Corporate events, Top Seminars, Conferences and Video Conferencing, Cocktail parties and Cocktail receptions, Launches including Product Launches, photographic shoots, filming, Award ceremonies, film screenings as well as private dinners, London Weddings and Wedding receptions and high end private events.
Altitude 360 is also used in London for a lot of international Corporate events, Government Seminars, Business Conferences and Live Video Conferencing, VIP Cocktail parties and high level Cocktail receptions, Company Launches including Major Product Launches, magazine photographic shoots, event and production filming, TV Award ceremonies, Hollywood film screenings as well as exclusive private dinners, Society London Weddings, Society Wedding receptions and of course a London Wedding Venue . Altitude 360 also caters for International high end private events which are not published for security reasons.
###