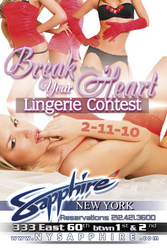 We have our stream of Bachelor, Bachelorette, and Birthday Parties but an area we see some of the largest growth is Couples Packages. This is a great event for our couples to start their romantic weekend
New York, NY (Vocus) February 11, 2010
Celebrate Valentine's Day early. "We have our stream of Bachelor, Bachelorette, and Birthday Parties but an area we see some of the largest growth is Couples Packages. This is a great event for our couples to start their romantic weekend," according to Michael Wright, Director of Marketing.
This Thursday the hundred Sapphire Gems will be celebrating Valentine's Day with their sexiest lingerie. Sapphire is asking all of their customers to be guest judges and vote for their favorite lingerie. What's a Valentine's celebration without Chocolate? Waiters will serve Godiva chocolate on silver platters, a chocolate fountain will be front and center of the room, and roses will be distributed with love.
http://www.nysapphire.com/NY-Sapphire-Valentines-Parties.html
http://www.nysapphire.com/NY-Sapphire-Couples-Parties.html
About Sapphire Gentlemen's Clubs
Sapphire New York is located in the legendary building where on any night you could catch our "A" list guests spending the evening with us. Sapphire New York provides premiere adult entertainment to one of the nation's wealthiest zip codes with an air of elegance and class and is the only gentlemen's club in the district.
At 10,000 square feet, Sapphire pampers New Yorkers and our visitors with the most beautiful entertainers, full bottle service and an extensive list of wine and champagne. Sapphire originated from Las Vegas, boasting 70,000 square feet of Adult fun. Sapphire Las Vegas is the world's largest Gentlemen's Club.
"Hey, Not Everything Stays in Vegas"
If you would like more information about this topic, please call Michael Wright at 212.430.6680 or email at mwright(at)nysapphire(dot)com
###