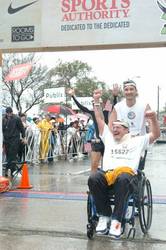 Reed states "Giving back such small measures of appreciation to our Veterans who volunteered their lives and have been injured at home or abroad is the responsibility of all, regardless of political affiliation or opinion of current events.
Tampa, FL (PRWEB) February 11, 2010
Founded in 2008 by former Marine, Marc Reed, Wheelchairs for Warriors endeavors to keep severely disabled veterans on the go, by supplying them with a specialized wheelchair which improves mobility and prevents further discomfort. Reed, a research engineer with SRI International, St. Petersburg, hopes to inspire other runners to pair up with veterans for similar events and provide more wheelchairs.
This year Wheelchairs for Warriors welcomes Ms. Florida to the team. Ms. Florida, Dr. Juli Goldstein, is a member of the Sun-Runners Club of Vero Beach, FL and a marine mammal veterinarian for Harbor Branch Oceanographic Institute. Goldstein, who ran the 2009 Boston Marathon, was recently quoted as saying "We cannot forget how blessed we are to live in a country that is kept safe by heroes such as Patrick Webster, it is my honor and privilege to help raise awareness for such a worthy cause".
The United States Armed Forces Foundation and the James A. Haley VA Hospital in Tampa, FL supports Wheelchairs for Warriors by overseeing the selection of a disabled veteran to pair with Reed. Reed secures funding via donations from corporate and private sponsors to purchase a custom-designed and fitted wheelchair for each participant.
Colours Wheelchairs, located in Corona, CA manufactured the wheelchair that is being donated by Wheelchairs for Warriors to Webster in 2010. In 2009, Navy veteran Michael Kuhn received a similar wheelchair designed by Colours upon completion of the Gasparilla Marathon in 4 hours and 23 minutes, powered by Reed.
Donations are accepted by the Armed Forces Foundation and directed to Wheelchairs for Warriors via this site: http://www.wheelchairsforwarriors.homestead.com.
###