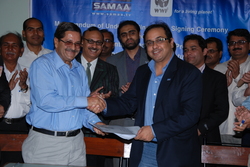 We must must be responsible enough so the future generations don't say, they did not care about us' Amir Jahangir, CEO SAMAA TV
(PRWEB) February 11, 2010
SAMAA TV and the World Wide Fund for Nature Pakistan (WWF Pakistan) have embarked on an innovative nation-wide partnership at WWF Pakistan's Wetlands Centre located in Kakapir Village near Sandspit. The partnership intends to enhance public awareness on critical environment challenges, bringing forth the collective and individual responsibility for nurturing the natural resources and associated biodiversity in the country.
The MoU was signed by Dr. Ghulam Akbar, Regional Director WWF and Mr. Amir Jahangir, Chief Executive Officer of SAMAA TV. Dr. Ejaz Ahmad, Deputy Director General, WWF Pakistan, Mr. Jonathan Mark Tatti, witnessed the MoU.
Mr. Anwar Naseem, Director Finance and Administration, WWF Pakistan, Ms. Marriyum Aurangzeb, Head-Corporate Relation WWF, Mr. Jonathan Mark Director SAMAA TV and Ms. Hina Akhtar, Senior Manager Strategic Communications, SAMAA TV and other senior officials of both the organizations were also present at the ceremony.
The principle platform for this MoU will be an innovative and information-rich spot called the "Conservation Minute," which will be a one-minute environment-related message every day to be jointly developed by SAMAA TV and the WWF. Other means of heightening people's environmental awareness via SAMAA TV will be through airing of documentaries, along with related talk shows and panel discussions both during regularly scheduled airtime and on significant International Environmental Days.
Speaking on the occasion Mr. Amir Jahangir said, "Environmental conservation is an issue that directly effects our generation and the next. It is extremely important that we should do everything so we can not only spread awareness about this generation can do but to contribute with what we know and need to do. We should care for the environment so in return the environment cares for us".
As part of a bilateral information collecting, news sharing and capacity building component of this partnership, WWF Pakistan will engage SAMAA TV reporters and production teams in exposure visits, help them with aspects of environmental reporting and nature photography while SAMAA TV will involve WWF staff in their environmental reporting activities and keep them informed and involved in fast-breaking environmental news events.
Mr. Jahangir said that, "The world is calling out for immediate environmental conservation, which was strongly highlighted at the Copenhagen Climate Conference 2009. This conference is a classic example of how strategic resources need to be put in place and monitored if we want our world to be a place where we can live in harmony and remain accountable for our deeds. We are here today to commit to improving the state of the world by making a difference; not only make the public but also ourselves responsible for nurturing and preserving our environment. We need to start taking ownership of our existence and be responsible to what we are giving back to nature."
Key elements of the partnership include five scholarships of public university students for masters in environmental sciences in consultation with scientific research department of WWF Pakistan, launching of structured thematic green media campaigns every month for people to participate in various initiatives such as 'Say No to Plastic Bags', 'Earth Hour', 'Beach Cleaning', 'Plantation,' and 'Make Your Carbon and Water Foot Prints Small and Green', all of which are designed to be visually appealing and environmentally informative.
Speaking on the occasion, Dr. Ghulam Akbar said, "In the present-day society there are few values that may be considered as universally common to everyone in the world. An analysis of this kind is very hard to make and any conclusions reached may not find universal agreement. But there is one value that everyone feels; our environment and its safeguard under every different aspect. This is a value that expresses a search for a better quality of life, and that, for this reason, involves social and economic aspects, the life of enterprises and organizations."
Dr. Akbar highlighted the importance of the partnership and encouraged others in the journalism community to follow suit. Dr. Akbar also congratulated SAMAA TV for being a pioneer and leading the efforts to create an eco sensitive and aware community by using the influential electronic medium.
The program also includes outreach activities across Pakistan, where SAMAA TV in partnership with WWF has planned numerous activities to make significant difference. SAMAA has committed to keeping a dedicated journalist beat on environment so that the content is created based on research and facts co-aligned with international practices across the world. This will bring innovation into every sector in Pakistan, which is responsible for the eco-system processes.
WWF Pakistan is one of the World's biggest, most prestigeous and recognized conservation organizations and has been working in Pakistan for almost 40 years to conserve nature and ecological processes where humankind coexists with nature in complete harmony. WWF Pakistan is physically present in 28 different locations across the country.
SAMAA TV is Pakistan's leading private satellite news television channel, which takes pride in its fair, factual and independent news coverage through its on-the-hour bulletins, breaking stories, incisive political analysis and current affairs programs. The channel is the first media channel is Pakistan to have established a well-integrated Corporate Social Responsibility (CSR) Program as part of it business activities. SAMAA TV's CSR program carries various initiatives within health, education, environment and outreach programs focusing on improving the state of the world, especially focusing the socio-economic situation in Pakistan.
The channel has also made a niche for itself through its programs on women and youth issues besides infotainment and sports. SAMAA TV, launched in December 2007 has network of district correspondents and five bureaus across Pakistan along with international stringers in the Middle East, Europe and North America.
###