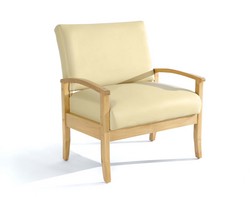 West Palm Beach, FL (PRWEB) February 10, 2010
A small business located in Cleveland, Tenn. is committed to re-tooling its manufacturing to lower its carbon footprint by using more eco-friendly "green" materials in its health care furnishings.
Bariatricfurnishings.com specializes in affordable furniture for extremely overweight people who have difficulty in locating attractive furniture that will support their weight. Their bariatric chairs and sofas are tested and certified to 1,000 pounds.
Bariatricfurnishings.com is convinced that going "green" will add a dimension to their products and further enhance their appeal to its customer base. Each piece is hand made and avoids the institutional look that is typical of much bariatric furniture. The company aims to place its furniture in the homes of the bariatric customer. The frames are partially constructed of re-cycled wood, and the coverings are 100 per cent non-polluting in their fabrication and use no PVCs, phosphates, are metal free, and 99 per cent of the water used is re-cycled. Bariatricfurnishings.com believes that this is a small but significant step in improving their "green" record.
###