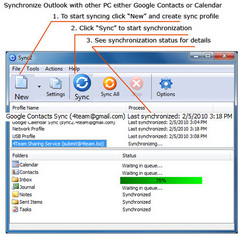 Sync Google Contacts, Calendars with Microsoft Outlook easily. Synchronization available for systems running Outlook 2010 Beta and Windows 7.
Pompano Beach, FL (PRWEB) February 11, 2010
To make all of our lives easier and provide a stable and easy to use Outlook synchronization solution 4Team Corporation has developed Sync2. The new version of Sync2 can be used with Outlook 2010 Beta on machines running either the 32bit or 64bit Windows 7 operating system. Great new functionality has been added allowing to sync Google Calendar and Contacts with Outlook Calendar or Contacts folders. Sync2 is the perfect solution to make default or multiple Outlook Calendars to be accessible online. It allows to synchronize Google Calendar and Contacts with Outlook both ways. This way, one can have Outlook Calendars or Contacts online via the Google service and vice versa – Google Calendars or Contacts in Microsoft Outlook. Using Sync2 and the Google Calendar service allows users to easily share and access Microsoft Outlook Calendars between multiple groups and from mobile phones.
One might ask, "Why not use Microsoft Exchange instead?" The answer is simple – Exchange servers require a lot of maintenance, they are expensive, complicated to use, and a "heavy" solution. Sync2 is a DIY solution.
Sync2 is a simple and yet powerful tool, which makes Outlook synchronization an easy task. Using a simple wizard one can sync Outlook via a USB Drive or any other removable data storage, a secure 4Team server (which is provided for free) or a shared folder. One can use Sync2 to synchronize Outlook across different versions on multiple PCs manually, or set up automatic synchronization at a scheduled time.
Create multiple sync profiles to synchronize Outlook and customize synchronization with a different set of folders, filters, options and shared data locations. Synchronize computers at home or office in one click even without opening Microsoft Outlook. Sync2 also features event-based synchronization so only changes are transferred. There is no need to carry or share the whole PST file. Sync2 will synchronize all of your own custom forms and imported items fields including read/unread statuses.
For further information on how to set up and sync Outlook Contacts and Calendar, see the short video guide.
A Free Evaluation Copy of Sync2 for Microsoft Outlook is available for download here and is fully functional for 14 days.
Sync2 for Microsoft Outlook costs from $39.95 per license and is available from sync2.com. A volume discount is available. Order now and get 5 % discount.
4Team Corporation is a software production company specializing in development of office and business applications and Microsoft Office add-ins since 1999. 4Team Corporation developed more than 30 tools that help improve job efficiency, synchronize or share Outlook Contacts, Calendar events, manage duplicates, and process or send e-mail messages in a variety of ways.
4Team Corporation
11555 Heron Bay Blvd Suite 200
Coral Springs FL 33076
954-796-8161
###