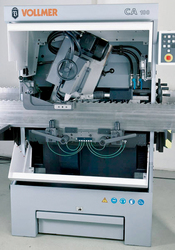 The CA100 is a fully enclosed full profile grinder while the CAF100 is a dual side grinder.
Carnegie, PA (PRWEB) February 14, 2010
Vollmer of America has introduced three new machines for the sawmill market designed to deliver fast, accurate and repeatable sharpening of band saws and circular saws. For bandsaws, the CA100 is a fully-enclosed full profile grinder while the CAF100 is a dual side grinder. Both band saws and circular saws can be serviced with the new GPA200, a CNC-controlled plasma stellite tipping machine.
Both the CA100 and CAF100 can be configured for either wet or dry grinding. They feature the latest cam-driven operation that results in a grind finish comparable to top-of-the-line CNC grinders. On the CA100, fast and simple set-up of saw tooth profile cams allows rapid change-overs (less than five minutes) without the need for re-timing. Like the CA100, the CAF100 is designed as a heavy-duty, entry level side grinder that delivers excellent accuracy while maintaining simplicity of design and operation. Both machines feature modular construction encompassing an extremely heavy central cast block for rigidity and elimination of vibration.
Designed for efficient tipping of circular saws, the new GPA200 utilizes a plasma welding technique to ensure a strong fusion between the stellite tips and the substrate saw body. With two CNC controlled axes of feed and saw indexing functions, the GPA200 is ideal for use with band, gang or circular saws. The GPA200 is available with either rod or wire versions and offered in two torch sizes to accommodate a wide range of saw sizes. Annealing is achieved either by plasma torch or the optional induction annealer.
For complete details contact Vollmer Of America; 105 Broadway Ave. Carnegie, PA 15106; Tel.: 412.278.0655; Fax: 412.278.0520.
About Vollmer Of America
The VOLLMER Group has evolved as the specialist in re-sharpening and production of PCD tooling, Carbide-tipped saws, HSS saws and band saws. VOLLMER Technology & service offers the latest in grinding, erosion and conditioning machines for tooling and saw blades used in woodworking, metal-cutting, and the processing of composite materials.
# # #