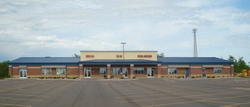 There is just not a lot of commercial land for development like this in the area.
Weston, Wisconsin (Vocus) February 10, 2010
The LFC Group of Companies, the industry leader in online auction marketing, is pleased to announce the latest campaign on their commercial property auction website, LFC.com, for a multi-functional retail/office complex and adjacent parcel of land in Weston, Wisconsin.
The multi-functional retail/office complex represents a versatile investment opportunity with the potential to generate income. The newly constructed +/-18,500 square foot building sits on approximately 7.7 acres of commercially zoned land and features four suites: two conference halls, a restaurant/café, and a large office suite. There are also three vacant land parcels available for the future construction of retail or office buildings. All share a common parking lot that is paved, curbed and guttered.
Lying adjacent to the retail/office building is a 4 acre parcel of land, one of the last remaining undeveloped lots available in the Weston area. The land is zoned M-1 commercial and allows for most commercial uses.
The properties are being offered separately in the auction, though that does not preclude one bidder from purchasing both.
Both properties are located next to Weston Tech Industrial Park in a prime location that features high visibility and easy access to the nearby freeways. Weston is part of the Wausau Metropolitan Area, with a population exceeding 125,000 people.
"This is an excellent and rare opportunity for a buyer to purchase land in this rapidly growing region," said Ark Rhowmine, broker at Grubb & Ellis | Pfefferle. "There is just not a lot of commercial land for development like this in the area."
LFC is returning to Wisconsin less than a year after partnering with Grubb & Ellis | Pfefferle for a highly successful online auction that resulted in a sale of over 120 acres of vacant land in the town of Lake Hallie. LFC's Director of Sales Shawn Miller believes the company's history of success in Wisconsin bodes well for their latest campaign.
"Buyers are drawn to the online auction because it allows them to name their price and set the market value," said LFC's Director of Sales Shawn Miller. "Our auction marketing strategies and online platform have proved effective in the past, and we're hoping history will repeat itself."
The minimum bid for the retail/office complex is less than half of the previous asking price of $3 million; just $1.2 million, while the adjacent land parcel has a minimum bid of $350,000; a sixty percent decrease from the previous asking price of $1 million.
Interested buyers are encouraged to visit http://www.LFC.com/857R2 to view property documentation, conduct due diligence, review auction details and set up a time to view the properties prior to bidding. All bids must be submitted by March 25, 2010.
LFC Group of Companies
For more than 30 years, the LFC Group of Companies has served numerous Fortune 500 companies, real estate developers, investors, financial institutions, government agencies and commercial brokerages, including CB Richard Ellis and Grubb & Ellis, by auction-marketing thousands of commercial, industrial, land and residential properties with an aggregate value well in excess of $5 billion. The company's latest venture is the online auction of mortgage notes.
Grubb & Ellis | Pfefferle is a full service real estate brokerage company that also offers comprehensive residential and commercial property management. The firm has been in business since 1991, and offers a menu of services to clients both regionally and nationally. Effective in December 2002, the firm affiliated with Grubb & Ellis Company, one of the nation's largest commercial real estate firms. Grubb & Ellis | Pfefferle is Independently Owned and Operated.
###