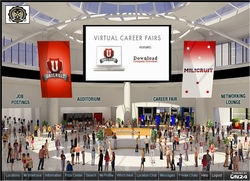 "Veterans have served and sacrificed in defense of our Nation. When they complete their service, we must do everything in our power to assist them in re-entering civilian life and finding employment" wrote President Barack Obama
Jamison, PA (PRWEB) February 10, 2010
Milicruit is pleased to announce the first of several virtual career fairs aimed at bringing veterans and industry leading employers across the country together in a fully interactive, online 3D environment.
Unlike traditional career fairs that may run for a few hours and don't allow for much interaction between the candidate and hiring company, the Milicruit event is accessible 24x7 and without the need for travel to and from a stadium or convention center. The Milicruit career fair levels the playing field for those veterans who have difficulty traveling to and from physical locations, and also provides more access, more often to those employers who have an interest in hiring veterans.
"At Stryker we actively and aggressively recruit veterans because of the talent, training, discipline and leadership qualities they possess, and the Milicruit event allows us to recruit talented veterans in one event all across the country" says Laurie Byrne Director Staffing & Talent Acquisition Stryker Corporation
President Obama signed into law the Veteran's Employment Initiative in November 2009, and the Milicruit service is exactly the kind of venue that will help get veterans back to work with top notch employers. This is an opportunity for employers of all sizes to show their support of our veterans, and help them re-enter civilian life after serving our country with such honor and distinction.
"Veterans have served and sacrificed in defense of our Nation. When they complete their service, we must do everything in our power to assist them in re-entering civilian life and finding employment. Government as well as private employers should play a prominent role in helping veterans who may be struggling to find jobs" wrote President Barack Obama
The event is limited to 75 industry leading employers and will go live April 29th and run on demand for 30 days afterward. The cost of the event is $1,000 per booth with additional sponsorship opportunities for those organizations wanting more prominent placement. Organizations such as Wellpoint, Ryder and Stryker have recently signed on to participate and we welcome them as partners.
"With the unemployment rate for veterans nearing 15% in some areas, we felt compelled to develop a virtual environment that would allow employers and veterans, especially disabled veterans the ability to interact as if in person, but from the comfort and convenience of their home or office" says Kevin O'Brien CEO, Milicruit
Veterans wishing to attend the event should register at http://milicruit.com/registration.html
Registration and participation is free for veterans. In the Milicruit event, you will have the ability to:
Visit employer booths
View Job Postings/submit resume
View company videos/presentations/webcasts
Chat with company reps
Video interview
Employers wishing to participate should send an email for more information
About Milicruit
Milicruit provides virtual career fairs that bring the veterans and industry leading employers together in a fully interactive 3 dimensional environment. The Milicruit events are available 24/7 and accessible anywhere the user has computer and internet access.
###