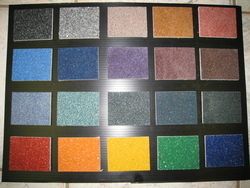 Now with OmniGripCST, Atlantic Paving is able to create eco-friendly surfaces for bike paths, crosswalks, and pedestrian lanes with color that never fades
Miami, FL (PRWEB) February 10, 2010
Atlantic Paving, a leading provider of decorative surface technologies in South Florida since 1997, is proud to announce the newest addition to its proven product line: OmniGripCST with Synthite colored glass. Atlantic Paving uses the latest eco-friendly products and technology, including OmniGripCST, to provide affordable alternatives to concrete and brick pavers when color retention and durability are the key factors for decorative surfaces. OmniGripCST is FDOT approved for bikepaths, crosswalks, and pedestrian lanes due to its skid resistant attribute.
OmniGripCST uses a 100% recycled, synthetically processed, and chemically inert colored aggregate engineered for high performance in environments where colored and decorative paving must be resistant to skidding abrasion and must retain a high color definition when exposed to the heaviest of trafficking and wear. OmniGripCST is highly durable and requires very little maintenance. It is skid resistant and suitable for concrete and asphalt. With OmniGripCST, Atlantic Paving creates a unique, eye-catching and exciting Florida landscape and streetscape enhancements for civil engineers, commercial property managers, driveways and homeowner's associations.
"The OmniGripCST product is a great addition to the Atlantic Paving line of products mainly because, considering increased environmental awareness, contractors and engineers want surfaces made from green materials," said Ray Cruz, general manager of the company. "Now with OmniGripCST, Atlantic Paving is able to create eco-friendly surfaces for bike paths, crosswalks, and pedestrian lanes with color that never fades."
Atlantic Paving projects in Florida using the OmniGripCST product include bike lanes along the Broadway corridor in Miami, cross walks in Wilton Manors, and cross walks in Tallahassee as well as the Miami International Airport. All services are FDOT approved to provide both safety and visibility.
About Atlantic Paving:
Since 1997 Atlantic Paving has been providing the South Florida community with the latest FDOT-approved, decorative surfacing technologies, especially as it applies to intersection safety. Atlantic Paving continuously evaluates and expands the company's product line and services with the goal assuring customers the latest in durable, decorative surfaces that meet the needs of the community at both the state and local level.
Atlantic Paving also specializes in the installation of all systems currently listed on the states (FDOT - QPL Spec # 523) covering decorative surfaces in the right of way, specifically crosswalks. Whether you're a civil engineer looking to improve traffic safety in a major intersection, a commercial property manager looking to add a decorative element to a bland parking lot / community entrance, or an owner of a residential driveway looking for a more affordable alternative to pavers and concrete, Atlantic Paving is dedicating to provide products and services that catch your eye and fit your budget.
Click here for Atlantic Paving's online gallery of projects
###