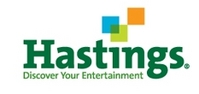 Amarillo, TX (PRWEB) February 10, 2010
Imagine having online access to not one, but 149 warehouses across the country packed with gently used books at great prices. That is the unique experience online shoppers can visit daily at http://www.goHastings.com. There are many websites that sell new and used books, but none have the unique http://www.goHastings.com model. goHastings.com's parent company is Hastings Entertainment which operates 149 entertainment super stores in 20 states and is a pioneer in the buying and selling of used entertainment products from customers in their store markets. When customers browse used products, they are actually shopping the unique inventories accumulated from buybacks from customers around the country. Imagine a customer in Albuquerque selling a used book back to Hastings and it is just what a customer in Allentown is looking for.
At all Hastings stores, customers regularly sell back books, movies, CDs and video games they no longer want for cash or store credit. They can also buy used products for a fraction the cost of new. Since Hastings has a 100 percent guarantee policy for all used products, it's a "can't lose" deal for the consumer. The result of this program is that Hastings has one of the largest inventories of used products in the country.
By making the entire chain's used inventory available on line, Hastings created a cyber treasure hunt of gently used and rare items that might not normally be made available to everyone. At Hastings, shopping for used is the same for all entertainment products, but for the book lover it is truly a unique and exciting experience. Books lovers can search for hard to find titles and come across a gem they have forgotten at a fraction the cost of a new version. They'll find books on history, cooking travel and other special interests that may be unavailable in most regular bookstores. They can also get a recent hardback best seller like "The Lost Symbol" by Dan Brown at a paperback price. The unique http://www.goHastings.com model is the ultimate recycling tool and is surely a cyber treasure hunt for consumers who love movies, music games and books.
About Hastings
Founded in 1968, Hastings Entertainment, Inc. is a leading multimedia entertainment retailer that combines the sale of new and used books, videos, video games and CDs, as well as trends merchandise, with the rental of videos and video games in a superstore format. We currently operate 149 superstores, averaging approximately 21,000 square feet, primarily in medium-sized markets throughout the United States.
We also operate http://www.goHastings.com, an e-commerce Internet Web site that makes available to our customers new and used entertainment products and unique, contemporary gifts and toys. The site features exceptional product and pricing offers. The Investor Relations section of our web site contains press releases, a link to request financial and other literature and access our filings with the Securities and Exchange Commission.
###