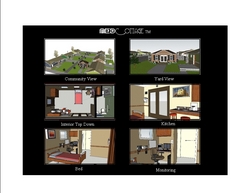 The MEDCottage model for healthcare offers a totally new paradigm concerning care and cost.
Salem, VA (PRWEB) February 9, 2010
N2Care, a newly formed company focused on facilitating independence, aging in place and family managed care, today announced support for legislation that would enable its mobile medical unit, MEDCottage, to be placed on homeowners' properties in Virginia.
Del. Morgan Griffith, the House majority leader, is sponsoring HB 1307, "Zoning Provisions for Temporary Family Healthcare Structures," a bill that will allow families to place mobile units on their property without special use permits.
MEDCottage is a state-of-the-art hospital room that gives family members the opportunity to care for loved ones from the convenience of their property.
"As Del. Griffith has recognized this approach to healthcare and care-giving could be a convenient and cost-effective option for families who want to play a proactive and caring role in the lives of loved ones who are recovering from illness or require end-of-life care," said Ken Dupin, founder and CEO of N2Care. "This concept can truly revolutionize where and how patients recover or age in place, and we thank Del. Griffith for his leadership on this issue."
While HB 1307 is revenue-neutral to the state, the upcoming production the MEDCottage is projected to generate 80 new jobs with above-average pay. Within three years, retail and support services could generate twice that number of jobs. N2Care's business plan projects sales revenue at $10 million over five years, all new taxable revenue for the state of Virginia.
The MEDCottage model for healthcare offers a totally new paradigm concerning care and cost. While the actual cost savings to state or federal governments is presently unknown, over the next 10 years 78 million people will require publicly funded support for their care as they age. MEDCottage can reduce that commitment by making it easier for family members to manage the care of loved ones without burdening extended-care facilities.
The 78 million aging Baby Boomers could overwhelm these facilities, Dupin said. "With this daunting reality looming, we must, as a society, consider every option to take pressure off the system," he said. "The MEDCottage is cost-effective for government funded healthcare programs -- and Baby Boomers are ready for new options for aging in place."
###