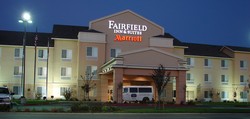 Sacramento, CA (PRWEB) February 11, 2010
Weary travelers find comfort, relaxation and accommodating Sacramento suites with a special hotel package aimed at providing road warriors with some reprieve after long hours of highway travel. The Fairfield Inn & Suites Sacramento Airport Natomas hotel is offering its "Airport Bus-Truck-RV Package" to provide guests with great rates for well deserved off-road time.
Teaming up with the Sacramento 49er Travel Plaza, this Fairfield Inn & Suites welcomes bus, truck and RV drivers to park their rigs at the 49er across the street, and enjoy the impeccably clean and comfortable rooms this hotel in Natomas, CA has to offer. After hours of travel, long-haulers are in need of some serious rest and relaxation and with its convenient location this Sacramento hotel package to allow travelers an opportunity to unwind and revive before continuing on their journey. Once rested, guests will find a wide variety of restaurants in Natomas and the Sacramento Airport area. The hotel provides shuttle service to many area restaurants, offering travelers a selection of dining opportunities not always accessible to folks with large vehicles.
Travelers who take advantage of this offer will receive hotel room accommodations with one king or two double beds and parking at the Sacramento 49er Travel Plaza which is conveniently located across from the hotel. Rates start at just $75* and are valid through Dec. 31, 2010. Reservations may be made online at http://www.marriott.com/hotels/hotel-deals/sacwn-fairfield-inn-and-suites-sacramento-airport-natomas/ by using promotional code PCJ or call 1-800-228-9290 for reservations and more information.
The Fairfield Inn & Suites Sacramento has gone "green" with the installation of new energy savings devices by Green Switch and guest rooms offer amenities such as wired and wireless Internet service, cable/satellite programming with premium movie channels and flat screen televisions. All rooms feature comfortable high-profile beds with premium pillows and crisp linens to help ensure a restful sleep.
About the Fairfield Inn & Suites Airport Natomas Hotel
Whether on the road for business or pleasure, the Fairfield Inn & Suites Airport Natomas hotel in Sacramento offers travelers convenience and comfort. Located near Sacramento International Airport the hotel provides easy access to all the fun and adventure of historic Old Town Sacramento, Sutter's Fort , the state capitol building, Sacramento State and U.C. Davis. In addition to 24-hour airport transportation the Natomas hotel also provides shuttle service to local dining establishments, a heated outdoor pool and hotel exercise room, business services and a complimentary breakfast making it a great destination for Sacramento travelers.

Rates are per room, per night and valid through 12/30/10. There are a limited number of rooms available for this promotion. Offer does not apply to groups of 10 or more rooms and may not be combined with any other promotion. Blackout dates may apply. Visit website for additional terms and conditions.
###