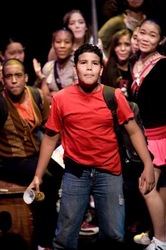 "We decided to organize this program for students who are passionate about the theatre and want to develop their skills in voice, dance or drama as well as their overall appreciation for the arts," said Lori Klinger, founder and artistic director, Rosie's
New York, N.Y. (PRWEB) February 10, 2010
Rosie's Broadway Kids, an educational organization dedicated to enriching the lives of children through the arts, is launching Stepping Out With Rosie's Broadway Kids, a half-day program that enables high school students to experience the razzle dazzle of the Great White Way. The workshops run March 29 to April 6, and are offered in a series of packages for different-sized groups and skill levels. In addition, all participants will get to preview an original production of My Life: Today. This musical, based on real stories by students from New York City's arts high schools, is the first-ever written and produced by the students in this musical theatre organization, founded in 2003.
"We decided to organize this program for students who are passionate about the theatre and want to develop their skills in voice, dance or drama as well as their overall appreciation for the arts," said Lori Klinger, founder and artistic director, Rosie's Broadway Kids.
The half-day workshops include morning, afternoon or evening packages are tailored to meet the needs of any group:
Ensemble Package: $25 per student

Drama, vocal or dance workshop with RBKids artistic staff
See a performance of My Life: Today
Meet the cast after show
Q&A with Rosie's Broadway Kids and staff
Soloist Package: $35 per student

All the above plus:
Snack reception and workshop with a NYC talent agent or Broadway performer
Star Package: price available upon request

All the above, plus:
Full breakfast, lunch or dinner on the facility's beautiful roof garden
All packages can have a minimum of 25/maximum of 50 people.
About Rosie's Broadway Kids
Rosie's Broadway Kids is an arts education organization dedicated to enriching the lives of children. Using professional teaching artists, Rosie's Broadway Kids provides instruction in dance and music and a professional theater experience for children who might otherwise not have the opportunity.
For More Information, contact:
Thecla Harris
646-434-2776
###