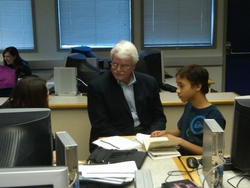 We have been able to ignite the passion in students and teachers in New Tech High Schools
Napa, CA (Vocus) February 10, 2010
Two of California's most influential congressmen, Rep. George Miller, D-Martinez, and Rep. Mike Thompson, D-Napa, got a glimpse of the future of education Friday during a tour of Napa New Technology High School and Napa High School with its Student-Centered 21st-Century classrooms (SC21).
Miller, who has long been an advocate of education, is chairman of the House Education and Labor Committee. Thompson is a member of the powerful House Ways and Means Committee, which oversees all revenue measures in Congress. Their two-hour visit included time spent in an American Studies classroom at Napa New Tech and a Political Studies classroom at Napa High School.
"Napa New Technology High School gives us the opportunity to look at the future," Miller said. "And it gives students the opportunity to fully engage in the learning process with the full participation of their peers."
Thompson said he was impressed with the performance of Napa New Tech.
"It was great to tour Napa New Tech High School and Napa High and see the innovative SC21 programs they've implemented," Thompson said. "Most impressively, they have real results to show that their model works. The achievement gap has been narrowed, the dropout rate has decreased, and college acceptance has increased. Our community should be commended for creating the public/private partnerships that have made this all possible."
The SC21 community initiative, based in Napa, seeks to provide classroom environments for students where 21st-century skills such as critical thinking, collaboration and creative problem-solving can be introduced, supported and developed.
Founded in 1996, Napa New Technology High School is the flagship high school of the New Tech Network, which now consists of 40 high schools in nine states. All New Tech Network schools are marked by project-based learning in a technology-rich environment. Unlike students in traditional high schools, where most teachers lecture and use textbooks as a teaching approach, teachers in New Tech high schools design rigorous, real-world projects tied to state and district standards and customize them to their location and the interests of students. The result: Students who are deeply engaged in learning and develop important skills such critical thinking and collaboration.
KnowledgeWorks, which develops and implements effective approaches to high school education in the United States, integrated New Tech Network into its organization in 2009.
The congressmen were joined by local and state dignitaries, community leaders, and executives from Cincinnati-based KnowledgeWorks Foundation.
Former America Online Chairman and CEO Barry Schuler, a KnowledgeWorks board member who was an early supporter of Napa New Technology High School, thanked Miller and Thompson for their visit.
"Back in 1996, when we were just getting started, we wanted to provide the kind of education for our children that would help them thrive in a 21st-century environment," Schuler said. "And, Ttoday, that little spark that started right here in the community of Napa is spreading like wildfire across the country. If we can replicate New Tech Network schools across our state, we can begin to ensure the long-term stability of our economy and continue to realize the original vision of SC21."
Chad Wick, CEO of KnowledgeWorks, said he hopes the Congressmen will return to Washington and tell their colleagues about the New Tech approach. "We have been able to ignite the passion in students and teachers in New Tech High Schools," Wick said. "New Tech's learner-centered model is creating dynamic and relevant learning environments and preparing students with skills that will drive the new economy."
New Tech Network President Monica Martinez, who is leading the nationwide expansion of New Tech high schools, said she was pleased to showcase New Tech's flagship high school.
"We are excited and honored that Congressman Miller and Congressman Thompson have had an opportunity to see powerful student engagement at Napa New Tech," Martinez said. "We hope to see this type of re-imagined teaching and learning spread throughout California."
The tour by Miller and Thompson marks the second high-profile visit by a lawmaker to see the New Tech model within the past month. In January, California Assemblymember Tom Torlakson, who has sponsored and authored legislation to seek to provide students with the digital technology skills needed to succeed in the global economy, held a public hearing on education technology at Napa New Technology High.
About New Tech Network: New Tech Network is a school development organization that supports the start-up and implementation of innovative high schools. There are currently 40 schools across the country, including schools in Indiana, Illinois, North Carolina, New York, Oregon, Colorado, Texas, California and Louisiana. It is a subsidiary of KnowledgeWorks Foundation.
About KnowledgeWorks: KnowledgeWorks Foundation strives to be the leader in developing and implementing innovative and effective approaches to high school education in the United States. The organization primarily focuses on redesigning urban high schools, developing STEM and Early College high schools, and supporting student-centered approaches to delivering real learning and results in our schools.
About SC21: SC21 is a community-based and community-funded initiative to give all our students the critical 21st century skills they need to be successful in today's highly interconnected and fast-changing world. Whether students are preparing for the demands of college or the 21st century workplace, the SC21 initiative provides students with classroom environments where 21st Century skills—critical thinking, collaboration, creative problem-solving, and effective communication and presentation—can be introduced, supported and developed.
###