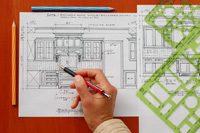 Remember, the bottom line price for a completed countertop all in is the price that should be used when price shopping the countertop. Comparing per square foot prices for granite countertops can be risky, confusing, and misleading.
Shelby Township, MI (PRWEB) February 11, 2010
Tile & Stone Works announces the completion of their new granite countertop fabrication facility located in Shelby Township, Michigan. This facility gives Tile & Stone Works the fabrication capability in house. "In the past our focus was more on material procurement and sales," says General Manager Matt Scarsella, "We now have the capacity to fabricate and install in house offering our customers added value." The brand new fabrication shop is located inside Tile & Stone Works' 20,000 square foot warehouse and showroom located in Shelby Township, Michigan and will service the entire Metro Detroit area.
When shopping for granite or solid surface countertops Tile & Stone Works' General Manager Matt Scarsella reccommends that prospective customers perform a thorough analysis of each price quotation prior to deciding on a fabricator and/or placing a deposit to hold a slab. Do not give a deposit prior to receiving a firm detailed quote for the completed and installed project. This quote should always include drawings or at least a sketch that accurately describes the limits of the countertop, seam location(s), and sink location(s).
Many fabricators advertise deep discounted per square foot prices for well known and common granite species. These advertised prices can be deceptive and all too often are for material and fabrication alone and do not cover other items necessary to the final and complete job such as delivery, installation, template fees, sink cut outs, and import fees just to name a few. Customers are quoted $30.00 per square foot, sign a contract, and give a deposit only to wait for an onsite measurement to receive the final price. Furthermore, this advertised discount price often does not include add-ons like edge profiles and backsplashes that the customer does not realize are not included in the original price. Some companies will not fully refund deposits even after the customer learns the truth of the "real" price so you end up paying money and receiving nothing.
Focusing on a per square foot price and not a completed price is a mistake when shopping for granite countertops. Take the bottom line quoted price and divide it by the actual total square footage of the granite countertop, including the backsplash if there is one, to obtain the actual quoted square footage price. Remember, the bottom line price for a completed project all in is the price that should be used when price shopping the granite countertop. Comparing per square foot prices can be risky, confusing, and misleading.
The granite countertop estimation process should be straight forward and easily understood. Pricing and business practices should be up front and thoroughly explained. Fabricators should provide a firm quote with itemized details of everything that is included in a complete and installed job. The fabricator should also provide you with a sketch or "shop drawing" of your project along with the quote. The quote and the sketch should be done free of charge prior to giving a deposit. Having this information up front will provide the information and detail needed to make an informed decision on whether or not shoppers are getting what they want at an affordable price. A cash deposit should always be fully refundable prior to commencement of the fabrication process and never taken prior to a complete and final quotation. Giving a deposit prior to having a final quote for a countertop leaves open the opportunity for the unscrupulous fabricator to add on petty charges and fees that are not fully refundable and designed to prevent a customer from taking their business elsewhere. The quotation process should always be an educational and transparent experience and a prelude to a quality final product.
About Tile & Stone WORKS
Tile & Stone Works' roots are in both residential and commercial ceramic tile and stone installation contracting. Originally created when long time east side Detroit contractors Eldorado Tile Company and Scarsella Tile and Marble, Inc. merged in 2001 creating United Tile and Stone Works quickly becoming a leader in southeast Michigan's ceramic tile and stone installation and sales industry.
In 2005 Tile & Stone Works was formed as a separate company without Installation services to better focus on its emerging position as a growing presence in the market as a ceramic tile and natural stone wholesale distributor. Our product lines now include domestic and imported ceramic tile, porcelain tile, glass tile, metal tile, handmade tile, and natural stone tile, as well as hardwood and laminate flooring. We also carry a comprehensive selection of setting materials, installation products, maintenance supplies and tools.
Our dedicated staff at Tile and Stone Works is committed to bringing to market the finest products and services that the flooring industry has to offer. Whether its value oriented contractor and builder products and sales programs or mid to high end designer products, Tile & Stone Works has the variety of selection, the knowledge, and the expertise to service the needs of every type of project and client.
Our 20,000 square foot showroom and warehouse located in Shelby Township, Michigan houses over one half million square feet of inventory ready to ship. Our relationships are with some of the largest and best manufacturers from around the world giving us and our customers' direct access to some of North America's largest inventories of the highest quality products available.
The warehouse service center is open six days a week, including Saturday. The showroom is staffed with experienced professional interior designers, also open six days a week including three late nights during the work week for our customers' convenience.
Media Contact: Frank Ferro, Sales and Marketing Manager
Tel: (877) 884-8453
Email: ferrof(at)tilenstone(dot)com
# # #