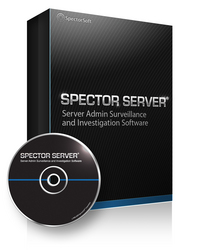 Spector Server is the first server monitoring solution to provide administrators with a visual log of activity
Vero Beach, FL (Vocus) February 12, 2010
SpectorSoft announced the release of Spector Server 2010 - Surveillance Edition, a new monitoring product designed for IT administrators who need a comprehensive tool that provides a detailed history, including screen recordings, of all server maintenance and session activity. Based on SpectorSoft's award-winning monitoring technology, Spector Server records every detail of changes being made to servers by internal IT staff, outsourced vendors, or off-site hosting personnel.
Spector Server records changes to configuration settings, modifications to startup and batch files, and captures every keystroke typed, program run, file transferred to/from servers and much more. Incorporating SpectorSoft's first of its kind surveillance screen snapshot features, administrators now will be able to see not only what users do on servers, but the exact order in which they do it, step by step. Spector Server enables IT Administrators to:

Track users logging into servers and records comprehensive session activity
Monitor all users including internal IT staff and outside technical personnel
Reduce server downtime by providing a detailed historical audit trail of server modifications and maintenance to assist in recovery efforts
See screen recordings and details of what happened every step of the way
Detect or investigate data loss at the server level
Track registry, configuration and settings changes
Record any Remote Control or Remote Access sessions to a server
Know what is happening on remote hosted servers
"Spector Server is the first server monitoring solution to provide administrators with a visual log of activity," said SpectorSoft President C. Douglas Fowler. "As more and more companies outsource or offshore server maintenance, or use dedicated hosting providers, Administrators need to keep track of everything users do. With Spector Server, they will have a record of all internal and external activity taking place on their servers."
Spector Server 2010 works on any edition of Windows Server® 2008 (including 64-bit), Windows Server 2003, Windows Essential Business Server, Windows Small Business Server or Windows® 2000 Server. Spector Server pricing begins at $495. The new program has zero impact on server performance because it runs only when someone is logged into the machine. Spector Server comes with one full year of updates, upgrades and free 24/7 technical support.
About Spector Server:
A complete description of the recording and reporting capabilities of Spector Server is available at: Spector Server A product tour of the new product is available at: Spector Server Product Tour
For an evaluation copy of Spector Server, an interview with a SpectorSoft executive, or more information on SpectorSoft Corporation, please contact Rebecca Ayers at (772) 770-5670
About SpectorSoft:
SpectorSoft is the recognized leader and pioneer in the PC and Internet monitoring software market. More than 500,000 consumers and 50,000 businesses, government organizations, schools, and law enforcement agencies have purchased SpectorSoft products to help keep kids safe online, and to prevent Internet abuse, data loss, and compliance violations in the workplace. Products include Spector Pro, eBlaster, Spector Pro mac, and eBlaster mac for home and office use; and Spector 360, Spector CNE Investigator, and Spector Server Surveillance Edition for corporate-wide monitoring and reporting. SpectorSoft has earned numerous awards for product excellence and been named five times to Inc. Magazine's List of Fastest Growing Private Companies in the U.S. For more information call (888) 598-2788 or visit SpectorSoft.
###