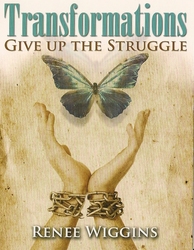 Gail Diggs of GCD Writing and Marketing, says,'just what the doctor ordered to lift your spirits and give you the strength to keep moving ahead.
Silver Spring, MD (PRWEB) February 11, 2010
Women are excited about a new book, Transformations: Give Up The Struggle by Renee Wiggins that encourages them to speak words that will uplift, encourage, equip, and motivate each other to move upward and forward.
"Each woman I have encountered has said she can take the book everywhere she goes,," said Wiggins, a licensed dietitian, certified personal trainer, and certified massage therapist, " and readers are including the affirmations in their daily planners."
Here's a sampling of reviews for this book that Gail Diggs (http://www.gcdwritingandmarketing.com) has called "just what the doctor ordered to lift your spirits and give you the strength to keep moving ahead."
Reviewer Wendy Thomas (http://theusreview.com/reviews/Transformations-Wiggins.html) said, "A compact and sensitive approach to the use of positive affirmations, this little gem is filled with thoughts and prayers to get you through difficult times. Acknowledging that words can build, encourage, and uplift one's soul, Renee Wiggins has managed to collect and create meditative affirmations designed to move you through adversity and encourage you to "give up the struggle."…Transformations is a handy pocket-size tool that gives you the quick tools you need to start thinking positively when life can get tough."
Holly Connors, a reviewer for the Feathered Quill Book Reviews (http://www.featheredquill.com/), wrote, "In her introduction, Wiggins ask readers to think of people they know who are always upbeat and positive. "Think of how they can brighten up a room even when things around them are falling apart." Conversely, she notes that people" who are always angry, [seem to] always speak in the negative, and have low-self-esteem." The author has "learned my thoughts can determine my present and my future, "and she encourages readers to take control of their own lives/thoughts and change their lives for the better."
Paige Lovitt, a reviewer for Reader Views (http://www.readerviews.com/) said, "This inspiring book is written by Renee Wiggins, a woman who really knows how to motivate people to change their lives. Each page of Transformations has something empowering written on it to motivate us to change our lives for the better. Using very few meaningful words, she manages to initiate some very deep contemplative thoughts within myself. She really touched the core of who I am. I am amazed at how well she managed to do this!"
Dominque Sesson, a reviewer for Apex Reviews (http://www.apexreview.com/) wrote, "A short but impacted read, Transformations is, a highly recommended balm for the wounded souls of anyone struggling to gain greater insight into the purpose of life's vast sundry challenges. An uplifting literary treat for the mind and spirit."
Wiggins who owns and operates Results By Renee, a wellness company based in Silver Spring, MD, says "I wrote the book from other women's experiences as well as from mine. I wanted an affirmation book I could identify with, and that could help other's too."
Transformations: Give Up The Struggle is Wiggins third book, and she is currently at work on a fourth, Transformations: Dancing through the Storm.
For more information, Contact Renee Wiggins at renee(at)resultsbyrenee(dot)com. Follow her on transformationsgiveupthestruggle.blogspot.com, and on twitter.com/Giveupthestrugg.
###