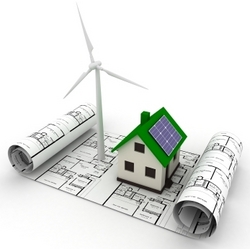 Centennial, CO (PRWEB) February 11, 2010
DaVinci Quest is producing an open international innovation competition on the subject of green building renovation in the City of Longmont, Boulder County, Colorado, United States. Today, DaVinci Quest announced that RidgeviewTel has agreed to enter the Smarter, Safer, Greener House Contest as a Team.
"We are pleased to have this opportunity to advance innovation toward the goal of reducing energy consumption, increasing the efficiency of information transfers and improving our environment," said Vince Jordan, President and CEO of RidgeviewTel. "Since our company is based here in Longmont, we feel compelled to be part of this unique contest which benefits not only everyone within our City, but gives Longmont a platform to reach much further."
The RidgeviewTel Team will be a collaboration of individuals and businesses with different areas of expertise that can address each of the Contest outcome criteria. DaVinci Quest will facilitate identification of team members and support RidgeviewTel in building its Team.
Karl Dakin, CEO of DaVinci Quest, stated "We believe that RidgeviewTel will be a great Team in our Contest and represents the kind of Team that will do well by organizing and orchestrating all of the skills needed to perform well."
RidgeviewTel is a communications company based in Longmont, Colorado, composed of several different business lines that, together successfully engineer, construct, deliver and manage converged broadband services via wireless and wireline technologies.
The Smarter, Safer, Greener House Contest seeks to renovate 50 homes by 50 Teams in Longmont, Colorado this summer to advance green building renovation technology and produce easily understandable information about conservation and alternative energy management solutions for the homeowner.
To win the Contest, a team must reduce personal energy consumption by 80% of United States national averages, produce and store new energy to meet the needs of a family of four for one month, reduce water consumption by 80%, reduce waste by 80% and control all activities from an electronic device within the home that can also receive a reverse 911 alert via WiFi from the City of Longmont for less than $25,000.
Any individual or organization interested in being a Team in the Contest should go to
http://www.davinciquest.com/innovation-contests/greener-house to obtain more information on the Contest.
About DaVinci Quest:
DaVinci Quest is a Colorado for profit social enterprise dedicated to solving major world problems with innovation.
Contact:
Karl Dakin, Chief Executive Officer
DaVinci Quest LLC
303 916 8272
http://www.davinciquest.com
###