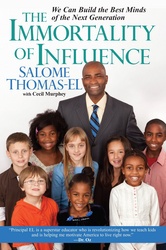 "Principal EL is a superstar educator who is revolutionizing how we teach kids and is helping me motivate America to live right now." - Dr. Oz
Philadelphia, PA (PRWEB) February 10, 2010
The Immortality of Influence: Building the Best Minds of the Next Generation, Kensington Books, 2010; by Salome Thomas-EL, Regular Contributor on the Dr. Oz Show and National Education Expert, is a book that challenges parents, educators and mentors to influence children's lives not only at home but in the community. With a foreword by Will Smith, the book opens with Thomas-EL's struggle to deal with the death of a promising young student. While learning from his own failures, he teaches us that we can give children the ability to thrive in today's challenging and dangerous world. It is Principal EL's belief that, "Every child needs someone to be crazy about them". He has used this mantra to spark his life-long commitment to answering the question, "How do we ensure that every child achieves their greatest potential?' This question lies at the heart of the national debate on public education and on the minds of millions of parents.
"If you finish this book and are not inspired to immediately go out and effect change in your community, then you were not paying attention and should read it again." - Will Smith
The Immortality of Influence is available worldwide. Simultaneously, Principal EL is announcing the launch of his new, interactive web site, http://www.PrincipalEL.com. On the site visitors can view videos of Principal EL's appearances on Dr. Oz and Oprah Radio, as well as follow him on his blog. With over twenty years of experience as an award-winning teacher and principal helping hundreds of troubled children excel academically and personally, Salome Thomas-EL in his newest book provides an action plan that we all can use to reach out to the young people in our lives. Principal-EL has joined Dr. Oz in successfully motivating and educating America about important children's health issues and the value of living a healthy life.
"Principal EL is a superstar educator who is revolutionizing how we teach kids and is helping me motivate America to live right now." - Dr. Oz
Salome Thomas-EL has been a teacher and principal in Philadelphia since 1987. He received national acclaim as a teacher and chess coach at Vaux Middle School, where his students have gone on to win world recognition as Eight-Time National Chess Champions. Principal EL is also the author of the best-selling book, I Choose to Stay (Kensington, 2004). The Walt Disney Company optioned the movie rights to I Choose to Stay. Thomas-EL speaks to large audiences across the country about how as a teenager, his life was saved by a young teacher in the inner city and his "Ten Critical Mandates" for parents. He frequently appears on C-SPAN, CNN, and NPR Radio. Principal EL was recently honored by Reader's Digest Magazine as an "Inspiring American Icon".
###