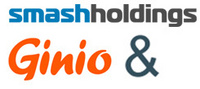 "We are excited to partner with Ginio to offer their technology to the NetCiber user base. Millions of cyber cafés, schools and gaming centers provide the only access to computers and the Internet for much of the world's population" - Cesar Gonzalez COO
Norwood, MA (PRWEB) February 10, 2010
Smash Holdings, a next-generation media company, today announced a strategic partnership with Ginio Inc, the developer of the Ginio Search Engine, to power search functionality across Smash Holding's network of content sites. Effective immediately, Ginio will be the preferred search engine provider, offering web-search, site-search, and music search as a complement to Smash Holdings' comprehensive range of brands and content, accessible to users via desktop PCs and mobile devices.
The service is soon expected to be rolled out on most of Smash Holdings' Spanish-Language properties. The Smash Holdings relationship broadens Ginio's reach and establishes the company more prominently as a leading provider of internet search services.
"Smash Holdings is rapidly becoming a leading voice among the millions of Spanish-speaking internet users" said Richard Fisher Ginio's V.P of Business Development. "Ginio's comprehensive search service is ideally suited to form an integral part of Smash Holdings' web offerings. We anticipate this relationship will help increase our visibility in our market."
In addition to a search distribution agreement, a revenue-share agreement calls for Smash Holdings to bundle the Ginio Toolbar for Internet Explorer and Firefox with NetCiber, a software solution for managing Internet Cafés developed by the company. Effective immediately, Ginio will become the default home page and search provider on all of the public-access-computing establishments currently powered by NetCiber software, including internet cafes and gaming centers.
"We are excited to partner with Ginio to offer their technology to the NetCiber user base. Millions of cyber cafés, schools, gaming centers, and telecentres provide the only access to computers and the Internet for much of the world's population, and NetCiber is quickly positioning itself as the leading brand of free software for public-access computing management." Said Cesar Gonzalez, Chief Operating Officer of Smash holdings.
About Smash Holdings:
Smash Holdings Inc. is a next-generation web media company and a leading creator and developer of technology, lifestyle, and business brands online; providing enjoyable, useful services. For more information on Smash Holdings please go to http://www.smashholdings.com.
About Ginio:
Ginio is a leading Internet technology company serving the Spanish and Portuguese-speaking market, the third largest internet market in the world by users. The company provides internet services to users, publishers, and businesses. It's country-level and vertical search technologies help users to more efficiently obtain access to relevant information from its online indexes. Ginio has offices in the Greater Boston Area; and in Beijing, China.
###