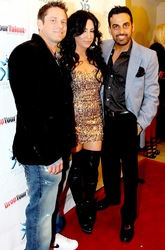 We're witnessing the birth of the next Sasha Baron Cohen
Beverly Hills, CA (PRWEB) February 16, 2010
After a series of hilarious short films, Millionaire Matchmaker's David Golshan is receiving serious attention from mainstream film and television. Golshan is in talks to appear as a regular on several TV sitcom pilots and will be appearing in an independent comedy later this year. The buzz in town is that he could be the next Sasha Baron Cohen. Also, he is quickly becoming a favorite for red carpet photographers and paparazzi while assuming the role as the Tinseltown's newest playboy.
Viewers probably recognize David Golshan as the cocky but extremely funny millionaire being fed grapes by his butler on Bravo TV's hit show "Millionaire Matchmaker." The Season 2 Premiere Episode, in which David Golshan starred, remains as one of the highest rated hours ever for Bravo Television Network. But, if television viewers think what they saw was the real David Golshan on that show, they should give him a round of applause, because what they actually witnessed was great acting.
Following the airing of his episode, Golshan was bombarded with offers to appear on numerous additional TV reality shows. He was even offered his own show titled "Persian Prince". He politely turned down all offers. Hollywood insiders didn't understand – that is, until they were able to glimpse some of his additional work (http://www.DavidGolshan.com and http://www.youtube.com/user/jimmyconwayprod).
"No wonder he turned all of those offers down," quipped HollywoodSuccess.com's CEO, producer S.W. Rock Riddle. "We're witnessing the birth of the next Sasha Baron Cohen! I've seen his comedic short films where he plays, amongst other characters, a Baptist preacher (Yes, he and his camera crew actually convinced a Baptist congregation that he was a real preacher), a Tony Montana Scarface Chef, and a 1980's Michael Jackson. The characters are brilliant. He also gave one of the funniest interviews I've ever seen on camera to a genuinely bewildered interviewer named Jaime Hilfiger. This guy is going to be huge."
In addition to receiving praise for his acting, David Golshan also co-wrote a comedic feature film about dating in Los Angeles that has garnered interest from more than one film studio.
On a personal level, David Golshan is basking in the role of Tinseltown's newest playboy.
On a recent Saturday, he was in front of three separate film crews exchanging jokes and stories with the legendary Hall of Fame pro wrestler, The Iron Sheik. An hour later he was spotted at a celebrity event with Dancing With The Star's Karina Smirnoff. Finally, he ended the night at a red carpet event celebrating the solo album of singer Jeff Timmons (founding member of 98 Degrees). As if that weren't enough, the next night he was talking and sipping champagne with Sean "P Diddy" Combs and celebrity trainer Mike Burns at P Diddy's private party in club Blvd 3 in Hollywood.
A new favorite of red carpet photographers and paparazzi, David Golshan seems to always have a drink in his hand, a smile on his face, and gorgeous Hollywood women surrounding him. Recently he was seen partying with beautiful international model/singer Audrey Rachelle, actress Billie-Suliat Baker, and Brazilian Victoria's Secret model Isabeli Fontana.
This fascinating comedian and hollywood playboy has decided to ride the crest of success in the public eye. Will that giant wave of success take him to untold heights in the film industry or will it come crashing down upon him? Only time will tell. One thing, though, is certain: Audiences will watch this fun journey.
###