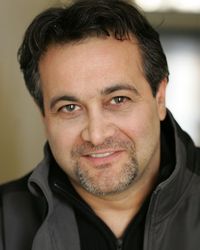 The movie is in honor of an icon, a great man, and a legend, Mr. Budd Schulberg.
Los Angeles, CA (PRWEB) February 15, 2010
Garry Pastore and Deborah Mello, founders of Hudson Film Group, Jersey City, New Jersey, announced today that their award-winning documentary short film, 'Waiting for… BUDD,' will be screened at the Culver Plaza Theater in Culver City, California, on Friday, February 26, 2010. Garry Pastore, Director and Co-Producer of the film, won the award for Best Director in the category of 'Short Documentary Subject' in his directorial debut. The award was announced at the 2009 New York International Film Festival and is to be presented to Garry Pastore at the NYIFF celebration and awards party in Hollywood, California, on February 25, 2010 at the Cabana Club.
The short film tells the inside story of when a group of 20 actors staged a live performance of the legendary Broadway play, 'On the Waterfront,' during the summer of July 2009. The compilation of the 'behind-the-scenes' footage & interviews documents the actors, including 'Sopranos' stars Jason Cerbone, Vincent Pastore, Al Sapienza, and Robert Funaro, the producers and director Frank Licato, and what they experienced as they prepared to perform for two nights, outdoors, in Hoboken, New Jersey.
The actors enjoyed beautiful weather the first evening, but were challenged the second evening during an "uninvited monsoon". Director Garry Pastore stated that the inspiration for his documentary came when the original screenwriter of 'On the Waterfront,' Budd Schulberg, unexpectedly attended the second evening's performance (at the age of 95.) The 1954 film 'On the Waterfront' was also shot in Hoboken, New Jersey, and eventually won eight Academy Awards including Budd Schulberg for best story and screenplay, Marlon Brando for best actor, and Eva Marie Saint for best supporting actress.
About one week after the July 2009 performances, Budd Schulberg passed away. To pay tribute to Mr. Schulberg, Pastore decided to title the short film 'Waiting for… BUDD.' "The movie is in honor of an icon, a great man, and a legend, Mr. Budd Schulberg."
For More Information, Please Visit:
http://www.hudsonfilmgroup.com
###