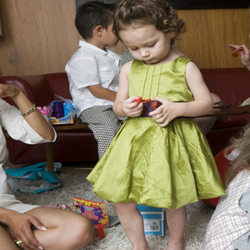 Orange County, CA (PRWEB) February 12, 2010
Press-and-parent-acclaimed online boutique Saige Nicole's is at it again, bringing you the freshest and most anticipated new children's fashions of the season. Owner Wendy Navarro is thrilled to introduce the trends of 2010, particularly those of five featured designers that are bringing whimsy and style to a new level in their 2010 creations.
From dazzling color to the exquisite attention to detail, these new trends are sure to make a splash with parents and kids alike. Hand appliqué, mix and match fabrics, and turn-over cuffs and collars are just a few of the chic styles Saige Nicole's is revealing for the new year. These clothes are designed to look good without being too stuffy or inhibiting play, so your little ones can hit the playground or share a day out with mommy in style. Also, as with all Saige Nicole's products, the 2010 trends will make kids feel special and parents proud, because every item is made with the highest quality materials by the most talented designers and artisans, including Alejandra Kearl, Captain Monkey Boy, Decaf Plush, Right Bank Babies and introducing Chichanella Bella.
Wondering what else this year will bring? Starting this spring, designers are mixing bold colors and patterns into the black and white craze from last year, a representation of human optimism for a better year. Also, designers are taking influences from Asia, the 60's, and 70's- a fun collaboration of Brady Bunch flair with Eastern beauty in shades that pop. Girls can expect both classic retro and kimono- inspired dresses and skirts, flowing and full of spring colors that will transition into ocean blue and crisp white linens and cottons this summer. Retro bathing suits for girls are an exciting addition the Saige Nicole's collection, and tutus and ruffles are still a big hit. Boys' fashions will include Daddy-inspired dress shirts and pants, as well as fun Anime-print t-shirts.
All these exciting designs and more can be found in Saige Nicole's online Boutique at http://www.saigenicoles.com, the perfect way to welcome in the new year- and decade with your children.
About Saige Nicole's
Creator Wendy Navarro is both a mother and inspirational business owner. Her company combines the hopeful spirit of an entrepreneur with the knowledge of what parents want for their children, making Saige Nicole's the perfect store for savvy parents who demand quality, functionality, and style in products for their children. Launched in 2008 as a premier children's boutique, Saige Nicole's is named for Mrs. Navarro's only daughter, Saige, and the entire family works together to make the shop the success it is. They uphold the belief that childhood is a time to cherish, play, and live freely, so all their merchandise is hand-selected, each product representing not only the best quality, but also the essence of childhood frolic and whimsy.
Wendy Navarro can be contacted for more info at wendy(at)saigenicoles(dot)com
###